Yemen
Yemen National Dialogue Conference resumes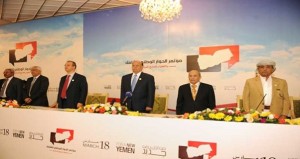 Officials in Yemen have confirmed that NDC representatives will resume their work on Saturday and look to resolve the country's most contentious issues – the Southern issue and Sa'ada –
Yemen National Dialogue Conference resumes
Both the Houthis – Shiite group led by Sheikh Abdel Malek al-Houthi – and al-Harak _ Southern Secessionist Movement – have both argued that the coalition government has failed to give enough guarantees that all political denominations will be equally and fairly represented throughout the state institutions.
The two political factions actually stood together in their opposition, stating that since both their goal was to promote the fair representation of their people and an end to all form of discrimination they would unite against the state and seek reparation.
Although all political factions in Yemen have in theory agreed to a move toward a federal system, NDC representatives have yet to agree on the number of regions.
Houthis and the Southern Movement continued their boycott of the National Dialogue Conference (NDC) Monday, as working groups who have not turned in their final reports resumed meetings. The final plenary session is scheduled to resume on Saturday.
Yasser Al-Roaini, the Deputy General Secretary of the NDC, said Houthis and the Southern Movement are demanding more time to finish their respective working group's final reports. They will be given the week to complete their reports, Al-Roaini said.
Moreover, three Houthi affiliates were killed on Wednesday and three others injured in an ambush by unknown gunmen while they were heading to Ibb governorate to take part in Ghadir Day festival, an official said.
According to Ali Al-Zalm, the deputy governor of Ibb, the festival was organized by Houthi supporters in the Al-Aras village of Yareem district.
The Houthis celebrated Ghadir Day on Wednesday across the country, including in areas that the celebration of this Shia festival were banned during the reign of former President Ali Abdulla Saleh.
Ali Al-Bukhaiti, the spokesman for the Houthis at the National Dialogue Conference, said ceremonies began Tuesday evening with jubilant crowds in Sa'ada governorate, the epicenter of the Houthis, as fireworks were set off.
Houthi affiliates in other cities reportedly celebrated this occasion indoors. Last year for the first time, Houthis celebrated Ghadir Day in the capital city in a heavily fortified hall.