Saudi Arabia
Yemen
Yemen Pounds Saudi Base with New Long-Range Missile with 800km Range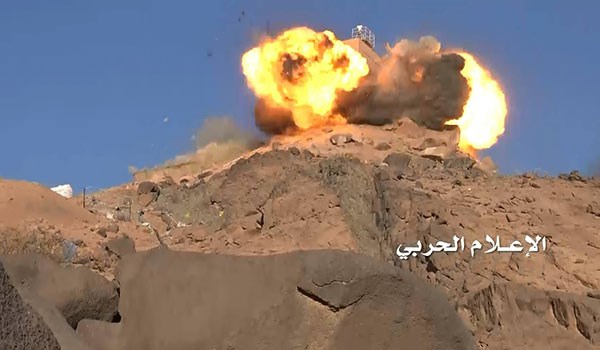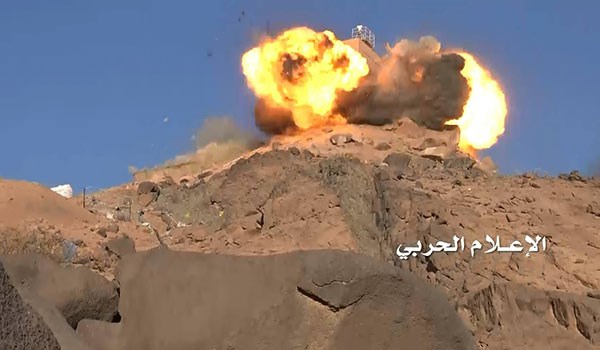 Yemen's long-range home-made missile dubbed as Barkan-1 (Volcano-1) hit deep inside Saudi Arabia in response to the kingdom's massacre of civilians in the impoverished nation.
Barkan-1 has a range of 800 kilometers and is a new generation of Yemen's domestically-made missiles, Yemen's Defense Ministry announced in a statement on Friday.
The Yemeni defense ministry did not mention the exact location of the targets that Barkan-1 missile has hit.
It, however, said that the warhead of Barkan-1 missile has been designed to destroy the Saudi military base structure with respect to the materials used in their construction.
On Wednesday, the Yemeni army and popular forces hit the Saudi military positions in the kingdom's Najran province with a Zalzal-3 ballistic missile in retaliation for the Saudi airstrikes on residential areas across Yemen.
The Yemeni missile attack inflicted heavy losses on the Saudi troops in Najran province.
Early reports indicate large casualties on the Saudi forces in the missile attack. The Saudi army and its coalition members have lost, at least, over a hundred troops each time they have come under a ballistic missile attack by Yemen.
The Saudi-led forces' armored vehicles were destroyed during the Yemeni missile attack.
Earlier on Wednesday, the Yemeni forces fired a ballistic missile at Abha airport in Assir province in a retaliatory attack launched after the Saudi fighter jets targeted civilian areas in the impoverished nation.
A Qaher-I ballistic missile hit the Saudi military positions at Abha airport in Assir province.
On Tuesday, the Yemeni forces fired ballistic missiles at the facilities of the Saudi state oil giant, Aramco, in the kingdom's Southwest and Abha airport in Assir province.
The retaliatory attack took place on Tuesday morning, hitting targets in Saudi Arabia's Jizan region and causing considerable damage to the Aramco facilities there, the Arabic-language news website Al Masirah reported.
The Saudi military has been pounding Yemen since March last year to undermine Yemen's Ansarullah movement and to restore power to the former president, Abd Rabbuh Mansur Hadi, a staunch ally of Riyadh.
Nearly 10,000 people, most of them civilians, have been killed in Riyadh's military aggression which lacks any international mandate.