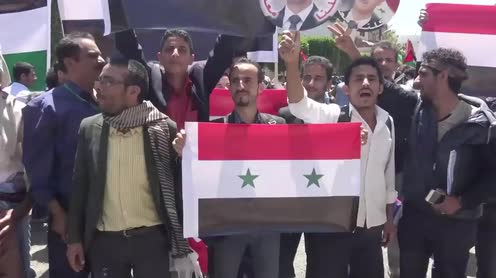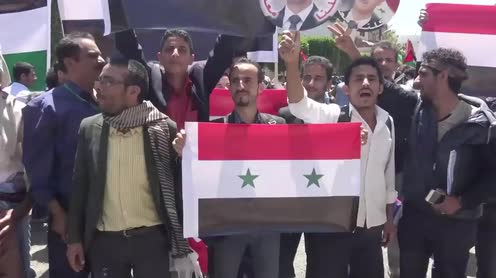 Scores of protesters gathered in front of the Syrian embassy in Sana'a on Monday, to demonstrate in solidarity with the people of Syria following the US-led airstrikes that targeted Syria on Saturday.
Protesters who carried banners and flags gathered in front of the Syrian embassy and chanted slogans for Syria and Bashar al-Assad.
For politician Mohamed el-Maqaleh, the protest has gathered "to express our solidarity with Syria and to condemn the tripartite aggression that targeted Syria's resistance."
Abdelfattah Haydarah, a protester, wanted to convey the following message to Damascus and the Syrian people: "just as Syria defeated the Saudi enemy, Yemen is now defeating the Saudi enemy."
The US, UK and France launched airstrikes against multiple government targets in Damascus early on Saturday morning, targeting Syrian civil and military facilities.
The airstrikes were in response to a claim of a supposed chemical weapons attack on Douma last week. Syria and Russia have both denied the allegations, calling them 'staged' and a 'fabrication.'