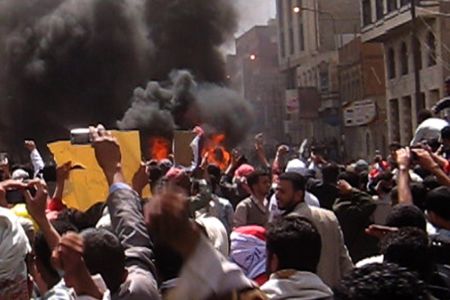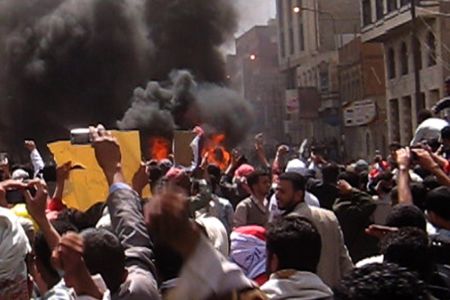 Yemen government forces have used nerve gas against anti-government protesters as President Ali Abdullah Saleh come under mounting pressure to step down, reports say.
Witnesses present at the scene of Tuesday's anti-government protests in the capital Sana'a said that what was originally thought to be tear gas may have been some form of nerve gas, reports said on Wednesday.
Military personnel used live bullets and some form of gas on Tuesday night to disperse a group of demonstrators who were trying to bring more tents into the protest area outside Sana'a University.
One protester was killed and around 100 others were injured in the attack.
The victims of the violence complained of symptoms similar to those caused by nerve gas, including temporary paralysis.
"We are seeing symptoms in the patient's nerves, not in their respiratory systems. I'm 90 percent sure its nerve gas and not tear gas that was used," confirmed Dr. Sami Zaid at the Science and Technology Hospital in Sana'a.
The use of nerve gas is forbidden under international law.
Meanwhile, protesters thronged the streets of the Yemeni capital on Wednesday, calling on President Ali Abdullah Saleh to resign.
Also on Wednesday, two more protesters were killed in clashes with regime forces in the province of Hadramout.
Saleh has already been in office for over 32 years, with opposition members arguing that his long-promised reforms have not materialized.
The country's opposition and religious figures have envisioned a roadmap for the ruler's departure before the end of this year.
The head of state, however, has vowed to stay in power until the end of his term in 2013.
Dozens of people have so far been killed and hundreds more injured in Sana'a crackdown on anti-regime protests.