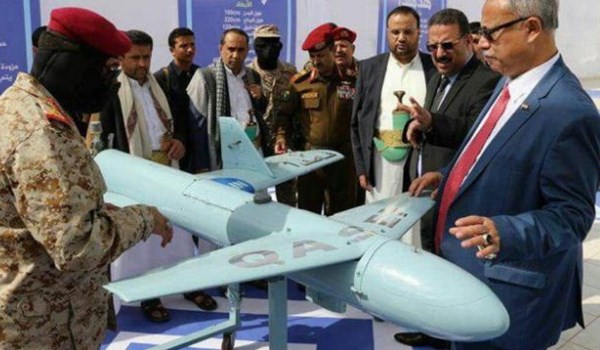 Spokesman of the Yemeni Armed Forces Brigadier General Yahya Saree warned that the country's attacks on the three airports of Abha, Jazzan and Najran will continue, vowing that they would remain insecure.
"Abha, Jazzan and Najran airports have turned into insecure airports and they will be targeted on a regular basis because these airports are used for military attacks, including continued attacks and cruel siege on the Yemeni nation," Saree was quoted by the Arabic-language al-Masirah news website as saying on Monday.
He called on the Saudi civilians to stay a long distance away from these airports.
Saree also warned that Yemen's response to the Saudi-led coalition attacks will not be confined to these airports and will include other sensitive sites in an unpredictable fashion of targeting for the Saudis.
In relevant remarks on Sunday, a senior member of Yemen's Ansarallah movement's political office said the clock was ticking for war on Saudi soil.
Mohammad Nasser al-Bakhiti wrote on his twitter page that time was arriving for a "major battle" between Yemen and Saudi Arabia.
"It is the right of the Yemeni people to attack the enemy on its land and reciprocate the financial damage" inflicted by the Saudi-led coalition," he added.
Al-Bakhiti called on the Yemeni tribes to differentiate between state and private-owned assets and properties if the attacks start, noting that the tribal forces will surely coordinate their moves with freedom-seekers in Saudi Arabia.
"We are liberation forces, and not occupiers," he said.
Also, on Saturday, Yemeni Air Force Spokesman Brigadier General Abdullah Al-Jefri underlined that the equations of war had changed by his country's missiles and drones, adding that the Saudi-UAE coalition would be forced to stop the war soon.
General Jefri told the Arabic-language Mer'at al-Jazeera news website that after the recent attacks against Najran, Jizzan and Abha, Yemen will launch offensives against the airbases, specially Khamis Mashit region in Assir which is considered as one of the most important Saudi military bases which hosts Israeli military experts too.
"The Yemeni missiles and planes will reach Riyadh and regions farther than Riyadh as long as the coalition countries continue siege and aggression against Yemen," he added.
General Jefri said that Yemen also is in possession of new advanced missiles and drones which can reach Bab al-Mandab and the Suez canal, adding that the Saudi-UAE coalition will be forced to end the war in the near future.
He warned that his nation's expanded missile and drone power would change political, military and economic equations in the battleground, saying that the 300 marked targets that include energy pipelines and exports would bring the Saudi-led coalition to its knees.
Yemen's armed forces on Friday carried out retaliatory drone attacks on an airport in Southwestern Saudi Arabia for the second time in a week.
Yemeni Qasif-2K drones targeted the airport in the Saudi province of Asir in the early hours of Friday morning, two days after a cruise missile attack by army troopers and allied fighters from Popular Committees at the strategic Saudi facility, al-Masirah television network reported.
There have been no immediate reports of possible casualties or the extent of damage caused as a result of the attack.
A Saudi-led coalition spokesman said in a statement released by the Saudi Press Agency that the country's air missile defense systems had intercepted five Yemeni drones over the Saudi airport on Friday morning.
On Wednesday, General Saree stated that US-built surface-to-air missile systems stationed at Abha airport could not intercept the cruise missile, which he said had hit the designated target with great precision.
He noted that the missile hit the observation tower in the airport, which is about 200 kilometers North of the border with Yemen and serves domestic and regional routes, causing significant disruption to air travel.
Saree pointed out that the missile attack on Abha airport was part of retaliatory measures by Yemeni soldiers and their allies in the face of the Saudi-led coalition's crimes against Yemeni people.
Saudi Arabia also confirmed the Wednesday attack, with Coalition Spokesman Turki al-Maliki saying in a statement that a Yemeni missile had hit the airport's arrivals hall, injuring 26 people and causing material damage.
Saudi Arabia and a number of its regional allies launched a devastating campaign against Yemen in March 2015, with the aim of bringing the government of former Yemeni President Abd Rabbuh Mansur Hadi back to power and crushing the Ansarullah movement.
Despite Riyadh's claims that it is bombing the positions of the Ansarullah fighters, Saudi bombers are flattening residential areas and civilian infrastructures. Weddings, funerals, schools and hospitals, as well as water and electricity plants, have been targeted, killing and wounding hundreds of thousands.