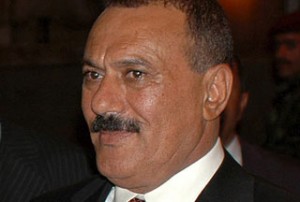 An Iranian diplomat has said remarks by Yemeni President Ali Abdullah Saleh that Tehran was interfering in his country's internal affairs were "unwise."
The diplomat, who spoke on the condition of anonymity, said on Monday that Iran had always stood by the people of Yemen and wished nothing but security and peace for them.
Saleh said in a recent interview with al-Hayat newspaper that Hezbollah fighters in the north had been financed locally and regionally and that they had bought weapons from "regional powers."
The Iranian diplomat, in reaction, said the remarks were "far from reality and inconsiderate."
He said Iran backs solutions that do not involve military actions.
Yemen last week announced that the six-year conflict with the Hezbollahi Houthi fighters in the country's north was over.