Saudi Arabia
Yemen
Yemeni army forces, allies shoot down Saudi-led bomb-laden drone in Hudaydah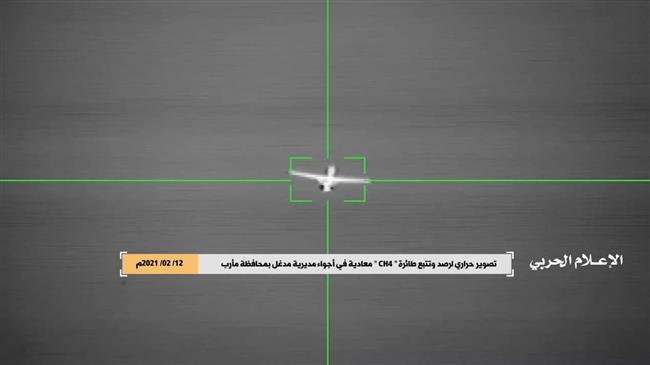 Yemeni army forces, backed by allied fighters from the Popular Committees, have intercepted and targeted an unmanned aerial vehicle belonging to the Saudi-led military coalition as it was flying in the skies over the country's strategic western province of Hudaydah.
The media bureau of Yemen's Houthi Ansarullah movement announced in a statement that Yemeni air defense forces and their allies shot down the armed drone over Hays district on Monday evening.
On February 12, the spokesman for Yemeni Armed Forces, Brigadier General Saree, said Yemeni air defense forces and their allies had shot down a Chinese-made CH-4 combat drone belonging to the Saudi-led coalition over Medghal district in Yemen's central province of Ma'rib.
The CH-4 drone has a 3,500- to 5,000-kilometer range and a 30- to 40-hour endurance. It is also capable of carrying six missiles and a payload of up to 250-345 kilograms.
The unmanned aerial vehicle can fire air-to-ground missile from altitude of 5,000 meters, therefore it can stay outside of effective range of most anti-aircraft guns.
UN urged to stop Saudi-led military aggression, lift siege
Meanwhile, the spokesman for the Yemeni Ministry of Public Health and Population, Dr. Najeeb al-Qubati, has called on the United Nations to assume its responsibilities, and work to stop the Saudi-led coalition aggression and lift the crippling siege.
Qubati urged the world body to exert pressure on member states of the Saudi-led alliance to stop their crimes against Yemen civilians – the last of which took place in the al-Hawak district of Hudaydah province on Sunday when a Saudi-led combat drone struck a residential building, leaving five civilians dead and several others injured.
The Yemeni health official noted that the airstrike points to the Saudi-led coalition's and its mercenaries' persistence on killing civilians and violating international law in the face of the UN silence.
Qubati also highlighted that the coalition of aggression is killing Yemenis by preventing oil shipments from being offloaded, saying the tight Saudi-led blockade on Yemen has had adverse impacts on the crisis-hit country's health sector.
Saudi Arabia and a number of its regional allies launched the war on Yemen in March 2015, with the goal of bringing the government of former president Abd Rabbuh Mansur Hadi back to power and crushing the popular Houthi Ansarullah movement.
According to the United Nations, 80 percent of Yemen's 30 million people need some form of aid or protection. About 13.5 million Yemenis currently face acute food insecurity, UN data shows.