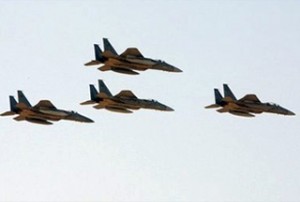 Yemeni government troops have killed seven people in a raid on what they claimed to be the home of a Houthi leader, while continuing their aerial bombardments.
Witnesses said two women were among the seven victims of the Wednesday raid in Matammah, an area situated in Yemen's northern province of Al-Jawf.
Eyewitnesses also reported seeing Yemeni government warplanes carry out at least four air strikes in different regions of the same province.
"Yemeni forces launched four air strikes on Houthi positions in Al-Zaher around half an hour ago," one witness told AFP.
There are no reports available as to how many people were killed or injured during the attacks.
The conflict in northern Yemen began in 2004 between Sana'a and Houthi fighters. Relative peace had returned to the region until August 11, when the Yemeni army launched a major offensive, dubbed Operation Scorched Earth, against Sa'ada Province.
The government claims that the fighters, who are named after their leader Abdul Malik al-Houthi, seek to restore the Shia imamate system, which was overthrown in a 1962 military coup.
The Houthis, however, say they are defending their people's civil rights, which the government has undermined under pressure from Saudi-backed Wahhabi extremists. Shias, who form the clear majority in the north, make up approximately half of Yemen's overall population.
As Sana'a does not allow independent media into the conflict zone, there are no clear estimates available as to how many people have been killed in the Shia province of Sa'ada since 2004 or in the recent wave of violence.
According to UN estimates, however, during the past five years, up to 175,000 people have been forced to leave their homes in Sa'ada to take refuge in overcrowded camps set up by the international body.