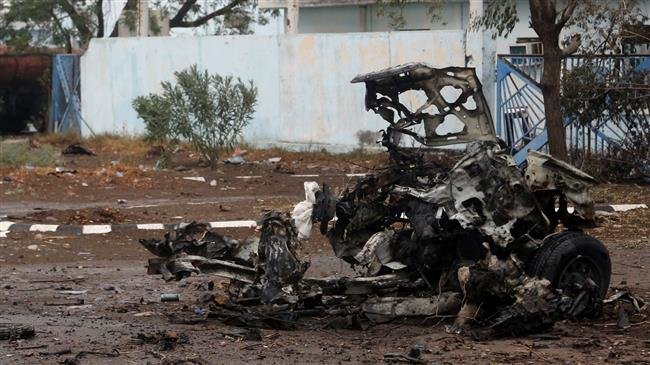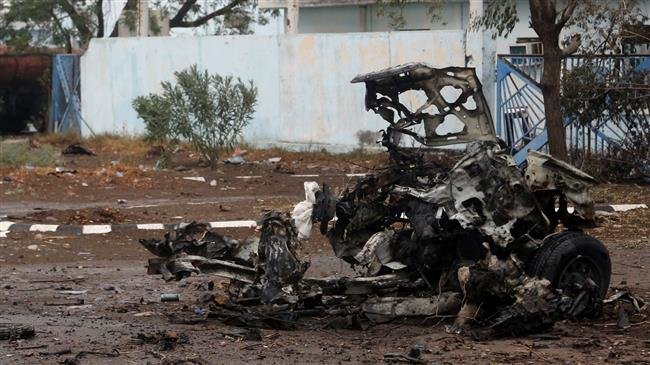 A newly-surfaced video shows a mangled bus littered with groceries and a woman's hand bag after a Saudi airstrike on Yemen's Hudaydah Province that killed civilians.
The Saudi planes targeted two buses that were carrying civilians fleeing the port city of Hudaydah on Saturday, killing at least 17 civilians and wounding 20 others.
Yemen's Houthi Ansarullah movement released the video footage on Sunday as a proof that the passengers were civilians.
According to Yemenis sources, many women and children were among the casualties, including five members of the same family who were killed in the aerial attack on the vehicle.
At least 15 Yemenis have been killed in an airstrike by Saudi warplanes in Hudaydah that has become a flashpoint of a war being waged by Riyadh and its allies.
Saudi Arabia began its invasion in March 2015 to restore power to Yemen's former Riyadh-allied officials. According to Yemen's Health Ministry, around 15,000 people have died since the war began.
Hudaydah has become a flashpoint of the war being waged by Riyadh and its allies against the Arab world's poorest nation. It came under a concerted invasion by Saudi Arabia and the UAE in June.
The offensive has raised the prospect that the nation could be tipped over the edge of famine as the port city in the Mediterranean takes in the bulk of Yemen's vital imports.
Aid groups blast 'routine' Saudi attacks on civilians
The Saturday airstrike drew wide condemnation from the United Nations and humanitarian workers.
"The United Nations agencies working in Yemen unequivocally condemn the attack on civilians and extend our deepest condolences to the families of the victims," Lise Grande, the UN's Humanitarian Coordinator for Yemen, said.
"Under international humanitarian law, parties to the conflict are obliged to respect the principles of precaution, proportionality and distinction," Grande said. "Belligerents must do everything possible to protect civilians — not hurt, maim, injure or kill them."
The Norwegian Refugee Council (NRC) also slammed the air raid, denouncing such frequent strikes on Yemeni civilians as "unacceptable".
"Attacks that kill and maim civilians are no longer an anomaly in Yemen's war," the humanitarian group said in a statement, referring to a rising and regular toll of civilian deaths since last summer.
The group said dozens of people were killed by explosions outside a hospital and market in early August, adding that more than 50 people lost their lives a week later when air raids hit a school bus.
A week later, over 25 people were killed in fighting while fleeing their homes near Hudaydah, it added.
"The drumbeat of assaults on men, women and children is one that has become appallingly routine," the NRC stressed.