Yemen
Middle East
Resistance Axis
Saudi Arabia
Yemeni forces conduct massive missile, drone strikes against UAE, Saudi Arabia
Yemeni armed forces have launched massive missile and drone strikes against the United Arab Emirates (UAE) and Saudi Arabia, only a week after they carried out a series of attacks against the UAE in retaliation for its involvement in the devastating Saudi-led war on Yemen.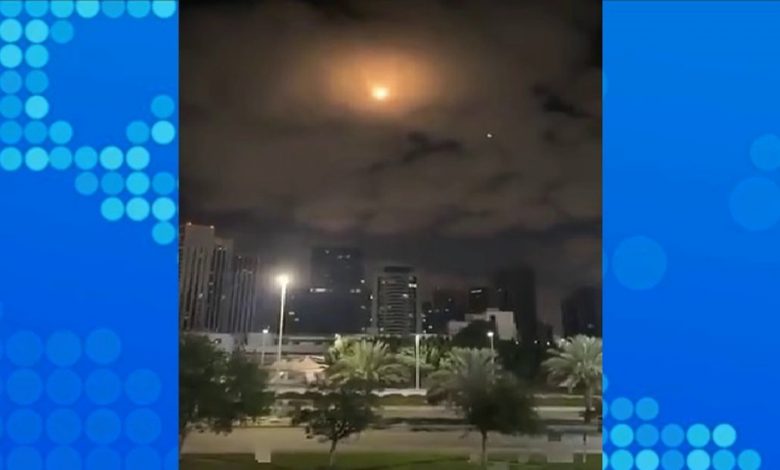 The spokesman for Yemeni armed forces confirmed the attacks, saying Yemeni troops carried out a large-scale operation, dubbed Yemen Hurricane II, against sensitive targets deep inside the UAE and Saudi Arabia, using domestically-developed ballistic missiles and combat drones.
Speaking at a press conference in the capital Sana'a on Monday, Brigadier General Yahya Saree stated that Yemeni troops and their allies pounded al-Dhafra Air Base, located approximately 32 kilometers (20 miles) south of Abu Dhabi, as well as other designated sites on the outskirts of the Emirati capital with a number of Zulfiqar ballistic missiles.
Saree noted that important targets in Dubai were struck with indigenous long-endurance Sammad-3 (Invincible-3) unmanned aerial vehicles.
The UAE defense ministry, in a statement published on the official Emirates News Agency WAM, had claimed its air defense systems had intercepted and destroyed two ballistic missiles fired by Yemeni forces early on Monday.
"The remnants of the intercepted ballistic missiles fell in separate areas around Abu Dhabi," the ministry had \added, noting that it was taking the necessary protective measures against such attacks.
The senior Yemeni military official went on to say that the Yemeni armed forces also used squadrons of Sammad-1 and Qasef-2K (Striker-2K) combat drones to hit a number of military camps in Sharurah town of Saudi Arabia's southern region of Najran.
"Additionally, a number of vital targets and strategic sites in [the kingdom's] Jizan and Asir regions were targeted with several ballistic missiles," Saree said, emphasizing that the designated locations were hit with high precision missiles.
"Yemeni Armed Forces are fully prepared to ramp up their operations in case the enemy raises the ante," he warned, adding, "We renew our advice to foreign companies and investors in the UAE to leave the country as it has become unsafe."
"The UAE will be constantly targeted as long as it continues its aggression and siege against the Yemeni nation," the spokesman for Yemeni armed forces asserted.
Sabereen News, a Telegram news channel associated with Iraqi anti-terror Popular Mobilization Units (PMU), released the purported video footage of the Yemeni retaliatory missile strike against Abu Dhabi.
It said four large explosions were heard at the time of the attack, and sirens went off shortly afterward.
According to Sabereen News, the retaliatory Yemeni missile strike has brought air traffic at Abu Dhabi International Airport to a halt.
Separately, the state-run Saudi Press Agency (SPA) said late on Sunday that a ballistic missile, fired by Yemeni armed forces, had fallen in the kingdom's southern region of Jizan, injuring two foreigners and damaging workshops and vehicles in an industrial area.
The Saudi-led coalition asserted in a statement that it had intercepted and destroyed two drones that had flown from the northern Yemeni province of Jawf.
Riyadh has lately ramped up its airstrikes against various regions across Yemen.
At least 90 people were killed when a Saudi strike hit a detention center in the northern province of Sa'ada on Friday, and nearly two dozen were killed in the capital of Sana'a in an operation on Tuesday.
On Friday night, the spokesman for the Yemeni armed forces called on foreign companies to pull out of the UAE following a series of retaliatory strikes against the Persian Gulf country.
"In the aftermath of the crimes committed by the Saudi-led coalition of aggression against Yemeni people, we advise foreign companies in the Emirates to leave because they have invested in an unsafe country," Yahya Saree said in a statement posted on his Twitter page on Friday night.
He added, "The UAE would grow more insecure as long as its rulers continue their military aggression against Yemen."
Yemeni forces carried out retaliatory airstrikes against strategic facilities deep inside the UAE on January 17, using domestically-manufactured combat drones and ballistic missiles.
The Abu Dhabi police, in a statement published on the official Emirates News Agency WAM, said three fuel tanker trucks had exploded in the industrial Musaffah area, near storage facilities of the Abu Dhabi National Oil Company (ADNOC), and that a fire had also broken out at a construction site at Abu Dhabi International Airport.
At least three people have been killed and six others wounded in the suspected drone attack, according to Emirati authorities.
Police identified the dead as two Indian nationals and one Pakistani. It did not identify the wounded, who it said suffered minor or moderate wounds.
Saudi Arabia launched the war on Yemen in March 2015, leading a military campaign consisting of its regional allies, including the UAE.
Through its war, Riyadh sought to dismantle the popular Ansarullah movement and regain Yemen as its pawn by reinstalling former president Abd Rabbuh Mansur Hadi.
The kingdom estimated at the beginning of the war that it would come out victorious within just a few weeks.
However, the war has left hundreds of thousands of Yemenis dead and displaced millions more. It has also destroyed Yemen's infrastructure and spread famine and infectious diseases there.