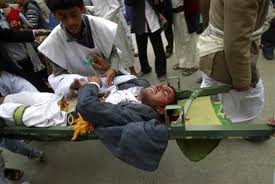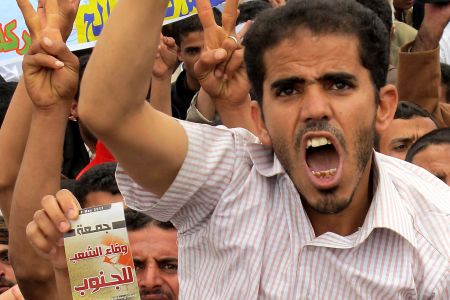 Yemeni forces have attacked a student protests, killing at least two and injuring dozens of others who were calling on President Ali Abdullah Saleh to resign.
The protesters were taking part in a campaign that urges students against taking part in exams until resigns.
The casualties occurred on Saturday in the southeastern city of Taizz — the capital of a province of the same name, where tens of thousands of students staged anti-government marches, a Press TV correspondent reported.
One of the deceased was identified as 13-year-old Mohamed Al-Salwai.
The attackers, who were hiding in a local council office, in the province's Al-Maafir district opened fire on the protesters after the students besieged the building.
Similar demonstrations were also held in the southern city of Ibb.
Hundreds of thousands of people have turned out for regular demonstrations in Yemen's major cities since late January, calling for an end to corruption and unemployment and demanding the ouster of the president.
Saleh has been in office for nearly 33 years with several opposition members arguing that he has failed to realize his long-promised reforms.
Some 40 percent of Yemenis live on USD 2 a day or less and one third is wrestling with chronic hunger.
The popular protests have been confronted by riot police and supporters of Saleh armed with knives and batons.
The death toll in the country since the launch of the revolution has surpassed 300.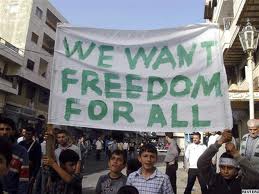 Also on Saturday, Yemen's main opposition group urged the regional Arab grouping of the [Persian] Gulf Cooperation Council to withdraw its initiative aimed at ending the crisis in the Gulf of Aden nation.
The Popular Youth Revolution coalition said the proposal grants Saleh immunity, if he leaves office 30 days after signing the deal with the opposition.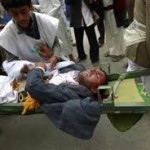 The protesters, however, want the ruler prosecuted for crimes against humanity for committing the bloodshed.