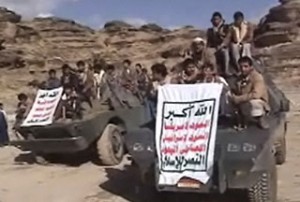 Yemen's Hezbollah fighters have denied allegations that they had broken a ceasefire by opening fire on a government military airplane.
"We are not responsible for any shot fired at a military airplane on Thursday morning, and we have not fired at any airplane since the beginning of the truce on February 12," the Houthis said in a statement on their website on Saturday.
"We are prepared to cooperate with every inquiry aimed at determining the source of this fire and those responsible for it," the statement added.
The Houthis issued the statement one day after the official Saba news agency reported that the fighters had opened fire on a government Antonov aircraft flying above the city of Sa'ada on Thursday morning while a number of top army officers and officials were on board.
"The alleged event took place at 9:30 a.m. local time Thursday while the plane was doing a routine trip to transfer some military officers to the province," the news agency said.
"The plane was not damaged or hit," the agency quoted an official of the Higher Security Committee as saying.
The conflict between Sana'a and Houthi fighters in northern Yemen began in 2004. It intensified in August 2009 when the Yemeni army launched Operation Scorched Earth in an attempt to crush the fighters in the northern province of Sa'ada.
The armed encounter, however, ended after the government and the fighters agreed to a ceasefire Earlier in the year.
The UN High Commissioner for Refugees estimates that since 2004, up to 175,000 people have been forced to leave their homes in Sa'ada and take refuge at overcrowded camps set up by the United Nations.