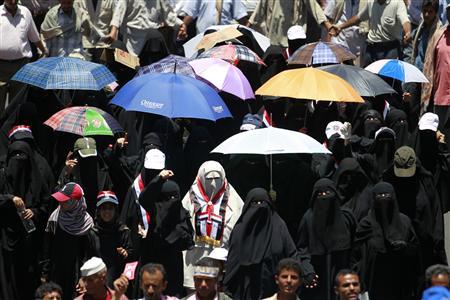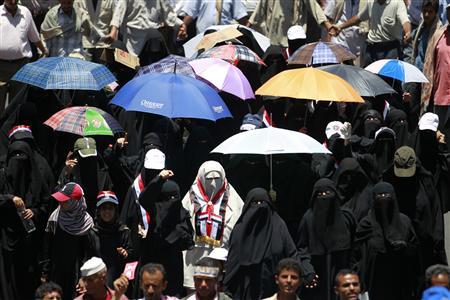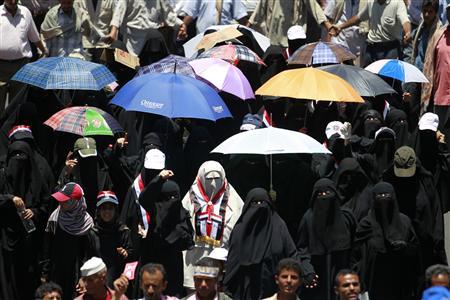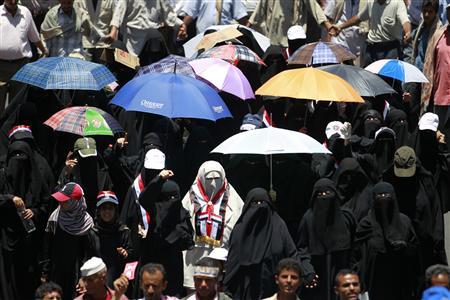 Yemeni women protested in Sanaa and other cities against President Ali Abdullah Saleh on Saturday, a day after he called for an end to men and women joining together in anti-regime protests.
The women said their role in protests was religiously sound and called on the president to step down in line with nearly three months of demonstrations demanding his ouster.
"It seems that President Saleh failed in all his efforts to employ tribes and security to strike at those seeking his exit, and so he resorted to using religion, especially after he saw that thousands of women were taking part in protests," said Samia al-Aghbari, a leader in the protest movement.
Saleh, who has warned of civil war and the break-up of Yemen if he is forced out before organizing an orderly transition, urged the opposition on Friday to reconsider their refusal to join talks to resolve the crisis in the fractious state. He also struck a defiant tone, calling the opposition liars and bandits, and appealing to religious sensitivities in the conservative Muslim country by criticizing the mixing of unrelated men and women among Sanaa protesters.
"Sit-in, sit-in, until the regime falls," chanted about 1,000 black-clad women who marched from the square at Sanaa University — the epicentre of demonstrations in the capital – to the prosecutor's office. They marched to lodge a complaint against Saleh, who has since January faced protests calling for his departure.
In the complaint, the women called for the "restoration of their reputation from the injury and the affront brought by Ali Abdullah Saleh's speech," one of the protesters who submitted the complaint told journalists. Prosecutor General Abdullah al-Olafi has ordered an investigation into the complaint, she said.
Before the start of protests, Saleh "defended women's rights, arguing that they were equal with men to the point of proposing the allocation of 41 seats in parliament for women," compared to one woman currently, an activist, Um al-Hassan, told AFP. "But after women went out into the street to denounce him and denounce corruption, he calls for an end to mixing (of men and women at protests) and says that it is illicit," she said.
Women also held sit-ins in Taez and Ibb, cities south of Sanaa, and sent a letter to prosecutors calling for "the respect of women's rights" in Yemen, according to participants.
Some women brought their young daughters to the protests,  "If Saleh read the Koran he wouldn't have made this accusation," said one protester, who gave her name only as Majda. "We ask he be tried according to Islamic law."