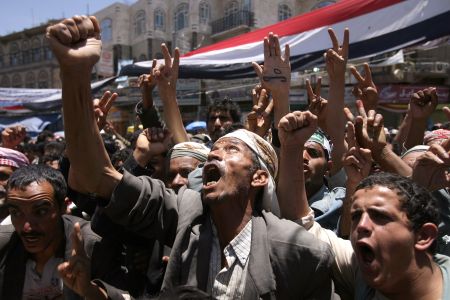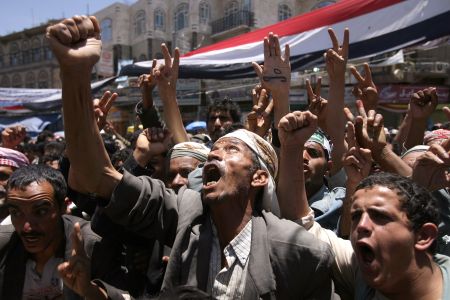 Yemen's opposition has agreed to take part in a transitional government under a Gulf-negotiated peace plan for embattled leader Ali Abdullah Saleh to step aside in a month in exchange for immunity for him and his family.
A spokesman for an opposition coalition said on Monday that his group had received assurances in order to accept the deal.
"We have given our final accord to the [Gulf] initiative after having received assurances from our brothers and American and European friends on our objections to certain clauses in the plan," Mohammed Qahtan said.
He added that the Common Front, a Yemeni parliamentary opposition coalition, had notified Gulf Cooperation Council (GCC) secretary-general Abdullatif al-Zayani of the decision.
But many pro-democracy protesters, who are not members of the coalition that agreed to the peace talks, appear to be unconvinced by the Gulf-proposed deal and have called for fresh demonstrations, as security forces continued their crackdown.
Yemen's Western and Gulf Arab allies have tried to mediate a solution to a three-month crisis in which protesters, inspired by revolts against autocratic regimes in Egypt and Tunisia, have demonstrated relentlessly for the end of Saleh's 32-year-long rule.
As opposition leaders met in Sanaa to discuss the plan, Yemeni forces killed at least two protesters at separate rallies outside the capital.
Under the Gulf proposal, Saleh can stay in power for a further 30 days before stepping down, and the opposition had earlier said it would stay out of a unity government.
But on Monday, the opposition coalition had changed it mind. The plan has yet to be formally accepted.
Seeing political allies desert him en masse, the Yemeni leader agreed in principle to a proposal by GCC foreign ministers to step down in exchange for immunity from prosecution for himself, his family and top aides.