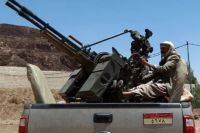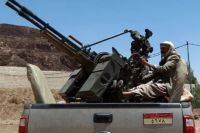 Yemeni revolutionaries captured a new town south of the capital, making new advances in their fight against the al-Qaeda linked militants in the Arab country.
The town of Yarim, located about 170 kilometers (106 miles) South of Sana'a in the province of Ibb was captured on Sunday by the revolutionaries, Fox News reported.
The town is regarded as one of the main strongholds of the al-Qaeda-affiliated militants.
The latest round of fighting comes as hundreds of thousands of Yemeni people from various tribes and faiths have been staging massive protests in Sana'a for the last several weeks to demand the dismissal of the government and the reversal of an earlier government decision to slash fuel subsidies.
The Houthi movement that played a key role in the popular uprising that forced former dictator Ali Abdullah Saleh to step down in 2012 is now a part of the comprehensively popular protests.