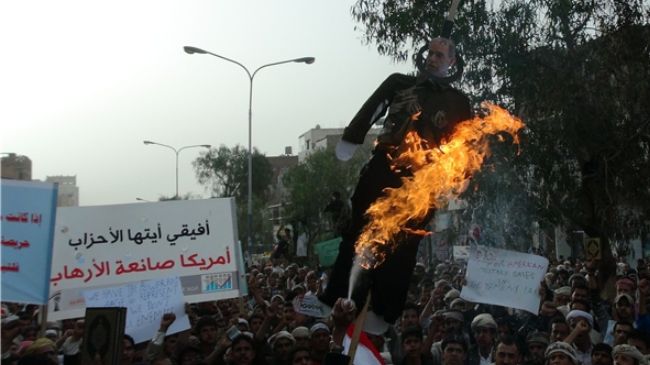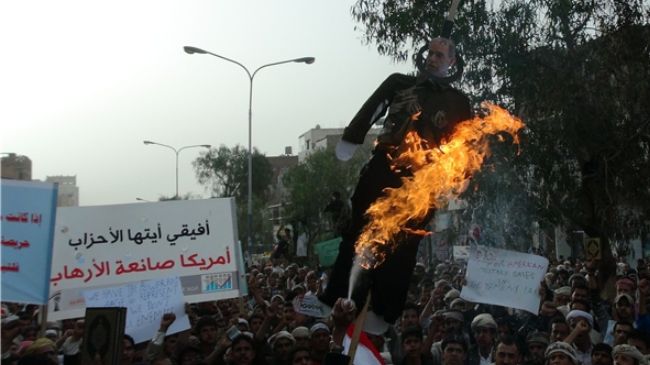 Yemeni revolutionaries have called for the expulsion of the US ambassador to Yemen over his intervention in the country's internal affairs and the desecration of the Holy Qur'an in a US-run military airbase in Afghanistan.
The revolutionaries staged a protest rally in front of the US embassy in the capital, Sana'a, on Tuesday and burned an effigy of the ambassador Gerald Michael Feierstein and the US flag.
Feierstein has been accused of having a role in holding the recent single-vote presidential election in Yemen and returning the former dictator Ali Abdullah Saleh home from a "medical visit" to the US.
The UK-trained army Field Marshal Abd Rabbuh Mansour Hadi was the only candidate in the presidential vote.
Feierstein met with both Hadi and his predecessor before Saleh signed a Saudi-brokered deal to hand over power to another person within the Yemeni regime.
The Yemeni protesters are also angry at the Saudi regime over the election. They say Riyadh has made each and every effort to keep the Saleh regime as intact as possible.
In the southern city of Taizz, protesters also said the United States and Saudi Arabia had backed the deal and thus had a role in keeping the former regime in power.
The deal also granted Saleh and his closest allies immunity from prosecution for crimes they committed during deadly crackdown on the anti-regime protests.
In Tuesday's demonstration, protesters also demanded that Saleh stand trial and all former political figures be removed.
Saleh's sons and nephews still hold key positions in the military and intelligence services. Many high-profile figures from the former regime are accused of committing crimes against peaceful protesters during the revolution.
Hadi was sworn in following the election on February 21, which pundits described as a mockery of democracy. The sham poll was likewise strongly supported by Washington and Riyadh.
The new Yemeni president will lead the country for a two-year-long interim period as stipulated by the so-called power transition deal, brokered by the Arab grouping of the [Persian] Gulf Cooperation Council in November.
Many viewed the election as a referendum on Hadi's appointment. Opposition groups had also boycotted the polls over concerns that it would not bring an end to the rule of Saleh's regime.