Middle East
Yemen
Yemeni Source Warns of Expanding Attacks to UAE Oil Facilities
A Yemeni military official warned the UAE to wait for attacks similar to those launched on the Saudi oil facilities in case Abu Dhabi refuses to withdraw forces and mercenaries from the war-torn country.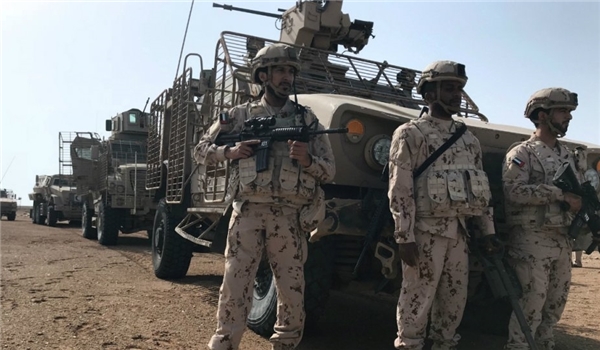 The military official who called for anonymity told the Arabic-language al-Mayadeen news channel on Tuesday that targeting the Saudi oil wells in the depth of the kingdom's territories had also a strong message to the UAE.
He warned the UAE government that its oil and non-oil firms are among the future targets of the Yemeni army and popular committees.
The official called on Abu Dhabi to officially leave Yemen and stop crimes against the Yemeni people, adding that the UAE's superficial withdrawal from certain fronts in Yemen would not prevent attacks against the Persian Gulf Arab country's oil firms.
Yemen's Ansarullah movement announced on Saturday that its drones had successfully attacked two oil plants in the heart of Saudi Arabia's oil industry, stressing that the attacks were a firm response to Riyadh's relentless bombardment of Yemen.
Abqaiq, 60 km (37 miles) Southwest of Dhahran in Saudi Arabia's Eastern Province, contains the world's largest oil processing plant. Khurais, 190 km further Southwest, contains the country's second largest oilfield.
Saudi stocks fell sharply on Sunday, after attacks on two plants at the heart of the kingdom's oil industry on Saturday knocked out more than half of the crude output.
Spokesman for Yemeni Armed Forces Brigadier General Yahya Saree said on Monday that his country was ready for another attack on Saudi facilities, urging foreign companies and workers to immediately leave their working sites in the kingdom for their safety.
Speaking to Arabic-language al-Masireh news channel, Brigadier General Saree said the Yemeni forces used ordinary and jet engines in their drones which hit Saudi oil facilities in Abqaiq and Khurais during Operation Equation Deterrence II.
He then warned that another attack may be soon launched on Saudi facilities, and urged foreign companies and operators working at energy, power and other facilities to immediately leave the sites to avoid being hurt in the attacks.
The Yemeni commander then addressed Saudi officials, and underlined that the Yemeni Army is capable of hitting any target in Saudi Arabia at any time it wishes.
"Riyadh must reconsider its calculations and stop its attacks and blockade against Yemen," he affirmed.