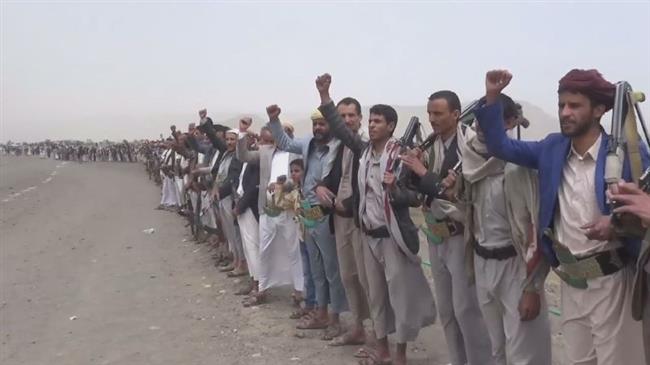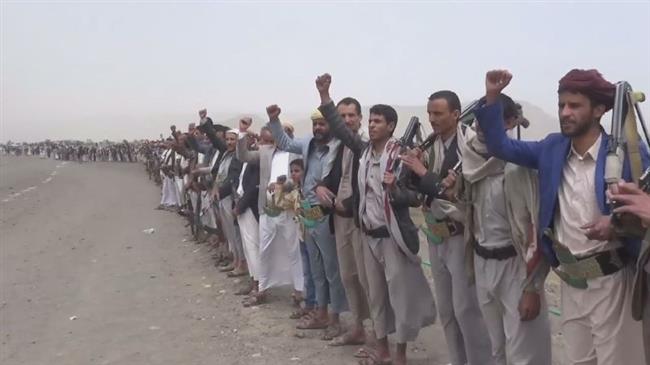 Local tribes have gathered in the capital Sana'a to voice their support for the Yemeni army and allied fighters from the Houthi movement in their fight for Hudaydah, which has been under Saudi-led attacks for weeks.
Cars, loaded with ammunition, on Sunday carried fighters to Sana'a where tribal heads pledged to take their battle to Hudaydah to confront the Saudi push for the Red Sea port, a lifeline for the majority of Yemen's population.
"The representatives will gather by the coastal area so as to defeat the Saudi and American enemies, and all of their mercenary and hypocrite allies," Mohamed al-Sanhani, a tribesman, said.
"Today, we tell the enemies that there are men headed to the coast. We are ready for the battle [of Hudaydah] on all battle fronts. We are ready for the enemies, more than they can ever imagine," another participant in the gathering said.
Backed by Saudi-led airstrikes, Emirati forces and militants loyal to Yemen's former president, Abd Rabbuh Mansur Hadi, launched the Hudaydah offensive on June 13 despite international warnings that it would compound the impoverished nation's humanitarian crisis.
The Saudi-led coalition, which has been waging a war against Yemen since early 2015, claims that the Houthis are using Hudaydah for weapons delivery, an allegation rejected by the fighters.
The coalition of aggressors has, however, failed to make any major gains in the face of stiff resistance from Houthi fighters and their allied forces.
Meanwhile, the UN health agency warned about the "critical" conditions of civilians in Hudaydah, saying military operations in the key port city threaten over 70 percent of the population who are in need of relief aid.
Saudi jets bomb more Yemeni areas
According to Yemen's al-Masirah television network, the Saudi-led coalition has conducted five airstrikes on Salif district and the island of Kamaran of Hudaydah Province on Monday.
Saudi warplanes have also bombed Baqim district in the northern Province of Sa'ada but there were no immediate reports of possible casualties.
The Yemeni Ministry of Human Rights announced in a statement on March 25 that the Saudi war had left 600,000 civilians dead and injured until then. The conflict and the accompanying Saudi-led blockade have also caused famine across Yemen.
The aggression has taken a heavy toll on the country's infrastructure, destroying many hospitals, schools, and factories. The United Nations says a record 22.2 million Yemenis are in need of food aid, including 8.4 million threatened by severe hunger.
Several Western countries, the United States and Britain in particular, are accused of being complicit in the ongoing aggression as they supply the Riyadh regime with advanced weapons and military equipment as well as logistical and intelligence assistance.