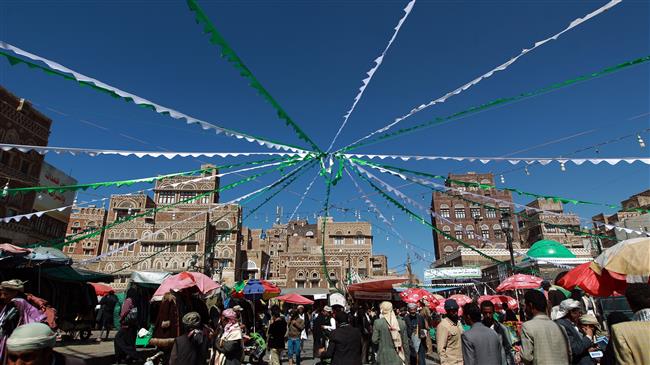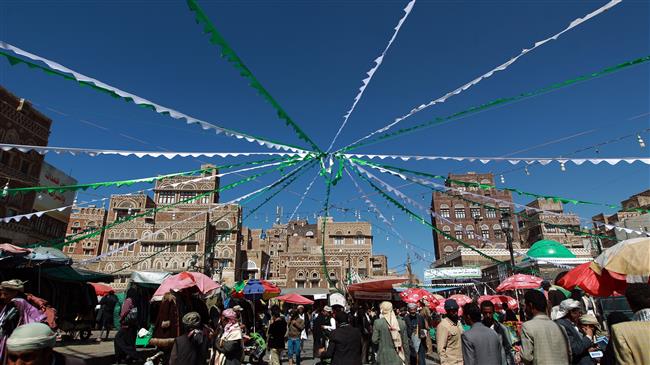 Thousands of Yemenis and Houthi supporters held a huge celebration in the capital Sana'a to commemorate the birth anniversary of Prophet Mohammed.
The celebration took place in what was once the military base of General Ali Muhsun al-Amar, which fell under the Houthis control in September.
The Houthi leader also took the opportunity to address a number of issues. Abdul Malik al-Houthi accused the US and Israel of carrying out ugly crimes against Islamic countries. He lashed out at hegemonic powers for their attempts to humiliate Islamic nations. Al-Houthi said the rise of takfiri terrorism is aimed at diverting Muslims' attention from the Palestinian cause which is the Islamic community's most important issue. He also called on all political factions in Yemen to unite and to be aware of foreign plots aimed at destabilizing their country.
In recent months, Yemen has been grappling with a severe political crisis between the central government and Ansarullah revolutionaries, also known as Houthis. In September, the fighters gained control of the capital, Sana'a, following a four-day battle with army forces. In the same month, Ansarullah fighters and President Abd Rabbuh Mansur Hadi's government inked a UN-backed ceasefire deal that called for the withdrawal of the revolutionaries from the capital once a neutral prime minister was picked.
The commemorative event attracted Yemenis from different parts of the country mainly from the Houthi movement. They put special emphasis on the need to carry out the message of prophet Mohamed by establishing Islamic unity and bringing an end to global oppression.