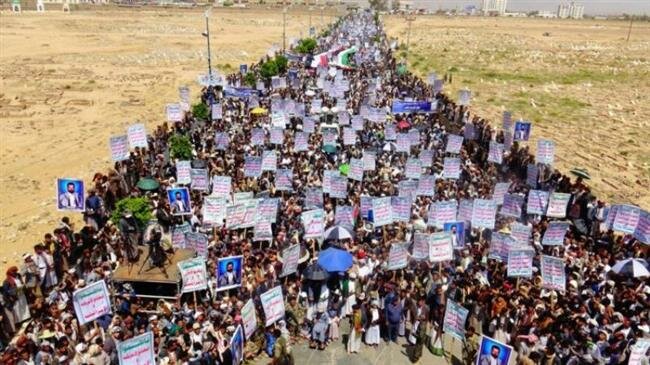 Yemenis have taken to the streets of the northern city of Sa'ada to protest against the Saudi-led war on their country and to condemn the United States' support for the aggression.
As part of the weekly "Scream in the face of the arrogance" protests, Yemeni people on Friday censured the US as well as other Western and regional countries supporting Saudi Arabia in the war on Yemen, carrying banners denouncing US policy in the region.
In 2002, Hussein Badreddin al-Houthi, the late leader of the Ansarullah movement, designated the group's slogan, or "sarkha" in Arabic (also meaning scream), as "Death to America" and "Death to Israel."
In the Friday demonstration, people also carried Palestinian flags in support of the Palestinian cause, voicing their rejection of the recent US-led conference in Bahrain, which was held in support of President Donald Trump's proposal for alleged "peace" between the Israeli regime and Palestinians.
Palestinian public opinion, as well as the Arab street in general, is fiercely opposed to the plan, which Trump himself calls "deal of the century." Certain Arab governments, however, back the initiative in an attempt to win the Trump administration's favor.
People also held similar rallies in the capital, Sana'a, on Friday, with more protest being set to go ahead in Hudaydah and other Yemeni provinces.
Saudi Arabia launched the war on Yemen in March 2015, with the goal of bringing a former Yemeni regime back to power and eliminating the Ansarullah movement.
The US-based Armed Conflict Location and Event Data Project (ACLED), a nonprofit conflict-research organization, estimates that the war has killed over 60,000 Yemenis since January 2016.
The war has also taken a heavy toll on the country's infrastructure, destroying hospitals, schools, and factories. The UN says over 24 million Yemenis are in dire need of humanitarian aid, including 10 million suffering from extreme levels of hunger.