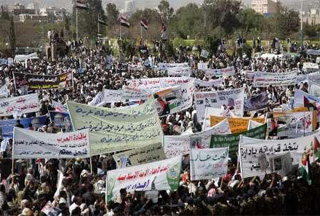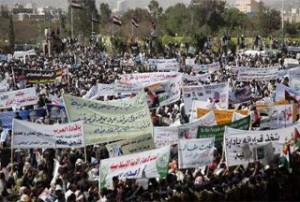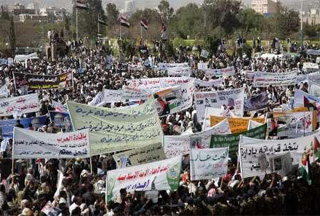 Thousands of people have rallied in Yemen in a show of solidarity with the Palestinian people amid serious violations committed by Israeli forces against the revered al-Aqsa Mosque and the city of Jerusalem (al-Quds).
Protestors chanted anti-Israel and pro-Palestine slogans, carried replicas of the al-Aqsa Mosque and waved Palestinian flags in a massive rally in the Yemeni capital.
Yemeni senior officials, religious figures and lawmakers took part in the demonstration.
During the rally, Sheikh Sadeq Abdullah al-Ahmar criticized Arab leaders for their inaction concerning ongoing Israeli raids of the third holiest place in Muslim faith, al-Aqsa Mosque.
"We hope that Arab leaders would break their silence on the Israeli aggressions against Palestinians. They should provide the necessary financial support for their brothers in Palestine," he said.
Sheikh Sadeq made reference to resistance as the only promising and practical solution to liberate the occupied Palestinian territories from the Israeli occupation.
He also called on the international community to make Israel bring to a standstill the plans, which sully sanctity of the Islamic holy sites across Palestine, particularly in al-Quds.
Sheikh Abdul Majid al-Zindani also urged Palestinians to assert their rights, demand their usurped territories to be freed and to exercise resistance against the Israeli occupation.
He denounced the Israeli atrocities committed against the Palestinian people as well as the desecration of the al-Aqsa Mosque as a "blatant breach of human rights and international resolutions."
The cleric also proposed that Arab and Islamic countries should establish a union with the aim of supporting the Palestinian cause.
Hundreds of Palestinians clashed with Israeli security forces in al-Quds on Tuesday due to plans for more Jewish housing in the predominantly Arab eastern sector of the volatile city and renovation of a synagogue in the Old City near the al-Aqsa Mosque compound.
Israeli riot police tried to disperse the demonstrators with rubber bullets and rear gas. Protesters hurled rocks at Israeli riot police in response
More than 100 Palestinians were injured, while about 60 protesters were arrested in the protests.