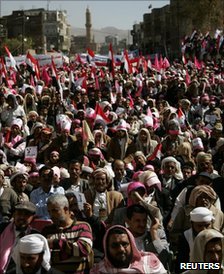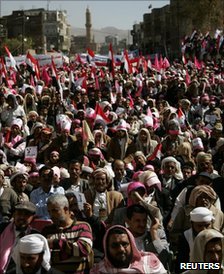 Thousands of Yemeni protesters have gathered in the capital of Sana'a, calling for political reform and an end to President Ali Abdullah Saleh's three-decade rule.
The protesters hit the streets of Sana'a on Tuesday, blaming Saleh for his mismanagement, repression and use of deadly force against peaceful demonstrators, the Associated Press reported.
Many opposition protesters have been camping near Sana'a University since mid February, vowing not to relent until Saleh's step-down.
On Monday, Yemen saw soaring disorder as looters at a munitions factory caused an accidental explosion that claimed the lives of at least 78 people.
The victory of opposition in seizing control of the factory and nearby towns has intensified Western fears amid Yemeni youth groups, military generals, clerics and tribal leaders joining voices in calling for Saleh's ouster.
Saleh, already grappled with Houthi Shia fighters in the north and secessionists in the south, is a close US ally and a partner in Washington's offensive against what it terms al-Qaeda in the Arabian Peninsula.
The president, who has been in power for over 30 years, has rejected calls to step down immediately. He has also urged his opponents to leave, branding them as "paid agents and collaborators." Saleh has also spoken of ceding power to what he calls safe hands.
Yemen has been overrun by massive demonstrations in major cities while anti-government protesters in many areas have pushed out police and soldiers and set up militias for self-defense.
Anti-government protests intensified after a violent crackdown by security forces on March 18 that left 52 people dead and many more wounded.