Middle East
Saudi Arabia
Yemen
Yemen's Hezbollahi Nation Marks Four Years of Steadfastness against Aggression with Mass Rallies
Tens of thousands of Yemenis took to streets across the country on Tuesday to mark the fourth anniversary of Saudi-led war on the Arab impoverished country.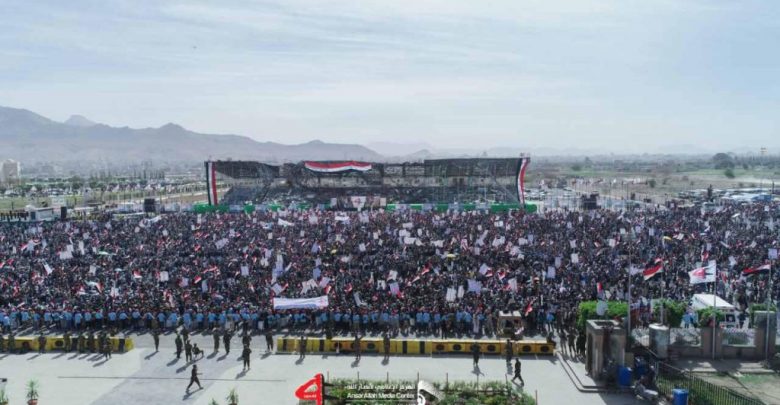 Local sources said crowds assemble in 11 squares across the capital Sanaa, Hodeidah, Ebb, Saada,Taiz, Jawf, Hajjah, Dhamar and al-Bayda.
The most massive rally was in Sanna's Sabeen Square, Yemen's Al-Massirah Arabic TV channel reported.
Head of Yemen's Revolutionary Committee, Mohammad Ali al-Houthi, hailed Yemenis over their heroic steadfastness over through four years of Saudi-led aggression.
Addressing US Secretary of State Mike Pompeo, al-Houthi said the Yemenis' steadfastness in face of the brutal aggression is a victory.
"Our faith in victory stems from faith in our just cause."
He added that the wide popular participation by Yemenis in the rallies on Tuesday is a message to the world that Yemeni people don't give up.
Yemen has been since March 2015 under brutal aggression by Saudi-led Coalition, in a bid to restore control to fugitive president Abd Rabbu Mansour Hadi who is Riyadh's ally.
Tens of thousands of people have been killed and injured in the strikes launched by the coalition, with the vast majority of them are civilians.
The coalition, which includes in addition to Saudi Arabia and UAE: Bahrain, Egypt, Morocco, Jordan, Sudan and Kuwait, has been also imposing a harsh blockade against Yemenis.