Iran
Middle East
North America
'You don't buy a horse twice', Iran's Zarif says of talks with US
Iran's foreign minister says the country will not renegotiate its 2015 nuclear agreement with world powers, rejecting the possibility of a new deal with the US that includes Iran's missile program.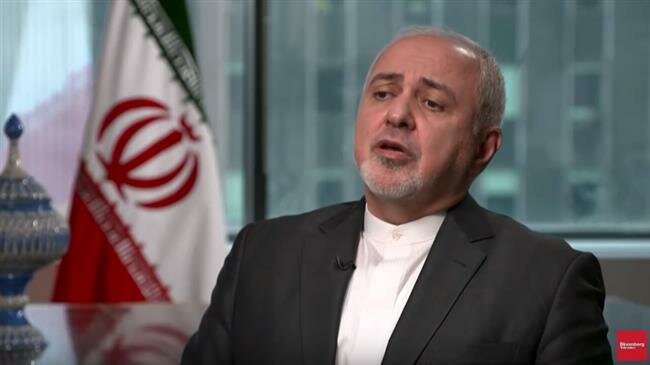 "You don't buy a horse twice," Mohammad Javad Zarif said in an exclusive interview with Bloomberg TV in New York released Wednesday, when asked about the possibility of fresh talks with the US over a new comprehensive deal that includes Iran's nuclear energy and missile programs.
Under no circumstances could Iran give up its missiles given the arms buildup by its enemies in the region, Zarif noted, rejecting claims that Iran may engage in talks with the US over its missile program if Washington lifts anti-Tehran sanctions.
"They have misinterpreted what I said yesterday [in an interview with AP]. I was very clear saying that the United States has a lot to do before it can talk about our missiles. First, implement the agreement that they first made. […] Then they need to start looking at where the problem is. […] The US is selling $50 billion [in arms] to our region. That has to stop," Zarif said.
Defensive power Iran's redline: Rouhani's chief of staffPresident Hassan Rouhani's chief of staff asserts that Iran's defensive power is non-negotiable, reacting to misinterpretation of earlier remarks made by Foreign Minister Mohammad Javad Zarif.
Zarif further suggested that Iran is drawing lessons from the US-Mexico talks, where Trump makes threats against Mexico over trade and immigration, and keeps asking for more even if the two side are to eventually strike a new deal.
The Iranian top diplomat said "after renegotiating NAFTA he [Trump] raised a new demand and he tried to push Mexicans into giving in a bit more.
"So he always believes, it seems, that 'What's mine is mine and what's yours is negotiable.'"
Zarif referred to the US' claim that Iran should not be allowed to enrich uranium at any level over concerns that it may develop nuclear weapons, and said the country is not going to build such weapons based on a fatwa by the Leader of the Islamic Revolution, despite the fact that it has the technical ability to pursue them "very rapidly".
"If we wanted to build nuclear weapons, we could have built it a long time ago," he noted.
Nevertheless, he signaled, Iran will pursue its rights under the accord to respond to the US' withdrawal from the Joint Comprehensive Plan of Action, and Europe's failure to implement its side of the bargain, delivering promised benefits to the Iranian economy.
"I think it's not the question of a photo opportunity. It's the question of moving forward," @JZarif told Bloomberg when asked if he'd accept a visit to Mar-a-Lago 
On May 8, Iran started a gradual reduction of its commitments under the deal in reaction to the US violations. In July, Tehran surpassed the agreed caps on its stockpiles of enriched uranium and exceeded the allowable level of enrichment.
"We will continue with the steps, and these steps are legal, in line with the agreement," he noted, but stressed  that the measures are reversible in case the other parties live up to their commitments.
While expressing skepticism of renegotiating the 2015 nuclear deal, Zarif hinted that the tension between Iran and the US can be eased, but the burden falls on US President Donald Trump.
Tensions between Iran and the US have escalated in recent months following mysterious attacks on ships in the Persian Gulf region in May and June, Iran's shoot-down of an intrusive US spy drone last month and the recent UK seizure of a supertanker carrying Iranian crude.
Pointing to the tensions in the Persian Gulf, Zarif said Iran is capable of closing the Strait of Hormuz, a lifeline for the world's energy transport, but does not want to do it.
'Security of Persian Gulf, world of special import to us'President Hassan Rouhani underlines the importance Iran attaches to international, especially Persian Gulf's security.
"We certainly have the ability to do it, but we certainly don't want to do it because the Strait of Hormuz and the Persian Gulf are our lifeline," he said.
"It has to be secured. We play a big role in securing it, but it has to be secure for everybody," Zarif noted.