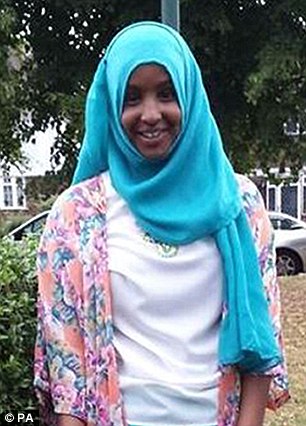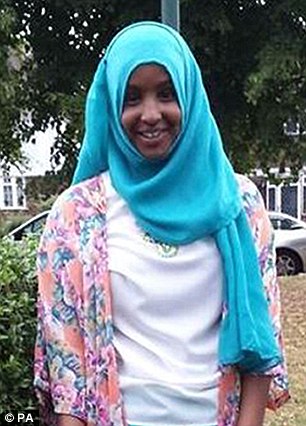 A young Britain woman is believed to have left Britain for Syria with her 14-month-old son, Mail Online reported.
Tareena Shakil, 25, of Burton-upon-Trent, Staffordshire, is said to have travelled to Turkey and crossed into Syria – despite telling her family she was going on holiday to Spain.
Miss Shakil turned to ISIS over a four-month period and has told her family that she is now in the terrorist group's stronghold of Raqqa with her son Zaheem, according to her father Mohammed.
He told The Sun: 'There was no reason to suspect. She left wearing jeans and a top. My little grandson shouldn't be going through this.'
Miss Shakil, who is divorced, reportedly set up a Facebook account with a false name and began posting pro-ISIS messages – even describing herself as a 'slave to Allah'.
She set up a Facebook profile under the name of 'Tameena al Amirah' in July and posted pro-ISIS messages, before displaying photographs of "Muslim fighters" and the ISIS black flag.
Then she left home on Monday with her son. Mr Shakil told Sun his girl was a normal British girl.
We brought Tareena up in a Western environment while respecting the culture of Islam and hoped that she would take the best of both worlds.
'I, myself, have made mistakes in the past but it never affected that close, deep bond that exists in special father-and-his-daughter relationships.
'I have never cried so much in my life and would do anything to have her and our grandson back in our arms. Like any father, I just want the best for my daughter and have always strived to give her the best.
We want her to know how much we love her and want her back safely as soon as possible.'
Miss Shakil is among a number of young British Muslim women who have travelled to Syria.
Yusra Hussein, 15, who left her home to join ISIS in Syria.
Bristol teenager Yusra Hussein, 15, left home in September but instead of going to school went to Heathrow where she caught a flight to Turkey.
She boarded a plane with a 17-year-old British girl she met online and the two are now believed to be in Syria, and may have married "jihadist" fighters.
Yusra went missing in September and it is believed she fled to Syria to join ISIS after she became radicalized online.
Her aunt, Sucdi Ali, said: 'She is a typical teenager who watches the X Factor and loves KFC. But in September she just disappeared.'
As British newspaper Guardian reports "Five Britons a week travel to Iraq and Syria to join ISIS"
"We know that over 500 British nationals travelled to join the conflict. Many have returned and many will wish to do so in the coming months and perhaps in future years", The Metropolitan police commissioner, Sir Bernard Hogan-Howe, said speaking at a national security conference in London in October.
The Metropolitan police say they have made 218 arrests for terrorist-related activity this year, an increase of about 70% in three years.
Britain's top police officer warns about terror threat of returning fighters, as third Portsmouth jihadi reported dead in Kobani.
While 'At least 30' Britons seek to flee ISIS as it is revealed that a fourth young Muslim from Portsmouth has died in Syria "Isis threatens to kill British "jihadis" wanting to come home ".
British "jihadi fighters" desperate to return home from Syria and Iraq are being issued with death threats by the leadership of Islamic State (Isis), the Observer has learned.
A source with extensive contacts among Syrian rebel groups said senior Isis figures were threatening Britons who were attempting to travel home. He said: "There are Britons who upon wanting to leave have been threatened with death, either directly or indirectly."
In July it was reported that twin schoolgirls who followed their jihadi brother from Manchester to Syria reportedly married ISIS fighters.
Salma and Zahra Halane, 16, from Chorlton ran away to Syria
Salma and Zahra Halane, 16, from Chorlton ran away to Syria and social media accounts reportedly belonging to the girls show them posting about learning to use guns and seeing grenades and Kalashnikov rifles. The sisters were hard-working students who hoped to train as doctors.
The pair left their parents' home in the middle of the night and caught a flight to Turkey, before crossing the border. Friends said the twins had appeared to be typical teenagers, pouting for selfies and shopping– but they are now feared to be training for battle.
Yesterday the family of a Portsmouth teenager killed in Syria said he was 'impressionable and naive'.
Muhammad Mehdi Hassan went to the war-torn country with a group of friends who called themselves the Britani Brigade Bangladeshi Bad Boys.
The 19-year-old, from Portsmouth, Hampshire, was killed fighting in Kobani over the weekend after travelling to the country in October last year.
His mother, who did not want to be identified, described her son as a 'loving, gentle and a kind boy' and said the group were 'normal teenagers with good education working in a bank'.
'They are impressionable boys and they are so naive they didn't think in balanced way about implication on life.'
A photo of Mehdi's body emerged on Twitter on Friday and his family previously confirmed to their local mosque that they had received news of his death.
His uncle, Muslim Khan, criticized the Government for making it difficult for young people fighting in Syria to return to the UK.
Out of the group of five friends three have been killed fighting for ISIS, one is in prison in the UK after being convicted of terrorism offences, and one is believed to be in Syria fighting.
It emerged last Tuesday that another Portsmouth man, Manunur Roshid, had been killed.
The 24-year-old was understood to have joined up with fighters from ISIS. Two of his companions, Ifthekar Jaman, 23, and Muhammad Humidur Rahman, 25, had already died.
As Guardian report on 29 September 2014 Hundreds of girls and women are going missing in the west, reappearing in Iraq and Syria to bear children for the caliphate.
In Austria, two teenage friends, Samra Kesinovic, 16, and Sabina Selimovic, 15, ran away from their homes in Vienna to join terrorists in Syria. Samra's (above picture) school said she had been speaking out for 'holy war', writing 'I love al-Qaida' around the building.
Women and girls as young as 14 or 15 appear to make up about 10% of those leaving Europe, North America and Australia to link up with terrorists groups, including "Islamic State" (Isis). France has the highest number of female terror recruits, with 63 in the region – about 25% of the total – and at least another 60 believed to be considering the move.
Counter-terrorism experts in the UK believe about 50 British girls and women have joined Isis, about a tenth of those known to have travelled to Syria to fight. Many are believed to be based in Raqqa, the eastern Syrian city that has become an Isis stronghold.
At least 40 women have left Germany to join Isis in Syria and Iraq in what appears to be a growing trend of teenagers becoming radicalised and travelling to the Middle East without their parents' permission.
Social media plays a crucial role in recruiting young women to join Isis in the Middle East, according to many experts.