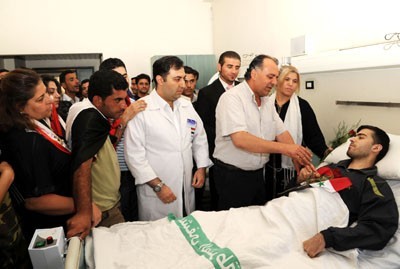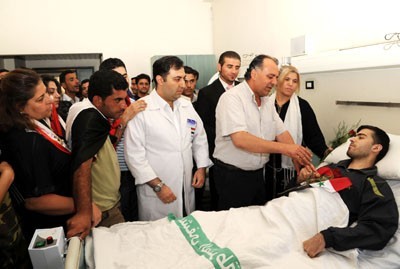 A delegation from different youth bodies on Tuesday visited the wounded of the police and security members, who were targeted by the terrorist armed groups while they were fulfilling their duty, in Police Hospital in the city of Harasta.
Mohammad Khalouf said that the visit expresses the Syrian youth's thanks for security and police members who sacrificed themselves for the sake of homeland, pointing out that this initiative constitutes a sincere call for stopping violence to leave a room for making the reform process a success.
Thaer al-Safadi said that the delegation does not belong to any particular body and its members came spontaneously to visit the injured of the security and military members.
Participants Dhoha Boqai and Mona al-Marjeh said "this visit is paid to our brothers in homeland and we defend with them our country …media that makes conspiracies against Syria should cover the real incidents and the blood shed in the country while it is exploiting it in the sedition campaign launched against Syria."