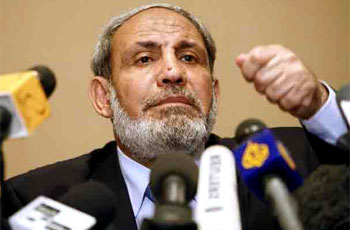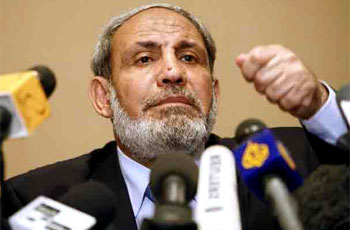 Senior Hamas official Mahmoud al-Zahar said a new unity government with Fatah will not recognize the Zionist regime or participate in peace negotiations.
"Our program does not include negotiations with Israel or recognizing it. It will not be possible for the interim national government to participate or bet or work on the peace process with Israel," Ynetnews.com quoted a-Zahar as saying hours after Hamas and Fatah told a Cairo press conference Wednesday of plans to establish a unity government.
The unity deal will promote Palestinian interests that are "more important than peace with Israel," Tawfik Tirawi a senior Fatah official said Thursday.
As part of the Fatah-Hamas agreement hundreds of Hamas prisoners will be released by the Palestinian Authority, posing a direct threat on the Zionist regime's security, Foreign Minister Avigdor Lieberman claimed in an interview with the regime's army Radio.
Iranian Foreign Minister Ali Akbar Salehi welcomed the decision describing it as an "auspicious and positive move", Press TV said.