Palestine
Zahhar: We should lay bet on resistance kit in W. Bank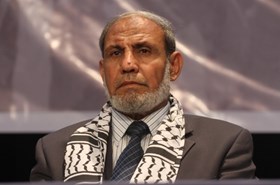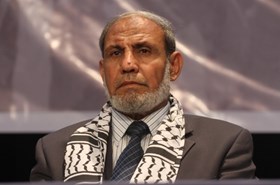 Senior Hamas leader Dr. Mahmoud Zahhar has called for the need to revamp the strategic and military ordnance of the Palestinian resistance and "lay a bet on" the West Bank-based resistance's creative methods.
Addressing the audience during a meeting with Palestinian notables and figures in Khan Younis on Saturday afternoon, member of the political bureau of Hamas Mahmoud Zahhar called for building up the resistance's stocks to face up to the Israeli occupation everywhere in the Palestinian territories, vowing: "This is our mission. We will never let you down."
Zahhar reiterated Hamas's commitment to lift the Gaza siege, declaring: "We have our means to hurt the Israeli occupation."
The Hamas leader said the resistance tunnels struck a heavy blow at Israel's national security strategy.
Zahhar re-stated Hamas's firm rejection of all Israeli attempts seeking to establish a buffer zone along the Gaza borders.
He slammed the PA Chairman Mahmoud Abbas for having broken his promises on the Palestinian reconciliation process and stepping up backbiting against Hamas, in reference to Abbas's recent allegations on Gaza blasts.
He attributed the latest bombings to the internal rift between the pro-Dahlan and pro-Abbas Fatah rivals, adding that an investigation committee will probe the bombing affair.
The Hamas leader further denounced the PA security coordination with the Israeli occupation in the West Bank.