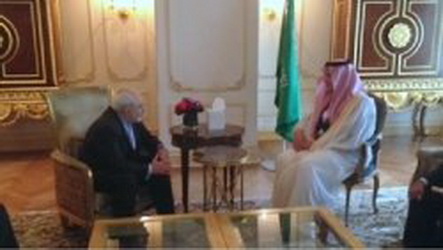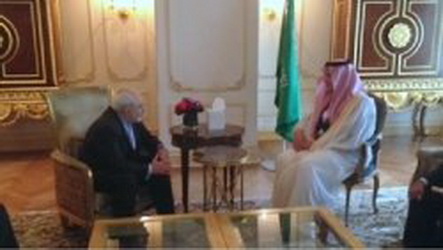 Iran Foreign Minister Mohammad Javad Zarif said a meeting he held with his Saudi counterpart on Sunday would bring a new chapter in ties between their countries, Iran's official IRNA news agency reported.
"Both my Saudi counterpart and I believe that this meeting will be the first page of a new chapter in our two countries' relations," the agency quoted Zarif as saying after an hour-long meeting with Saudi Foreign Minister Prince Saud al-Faisal.
The meeting came on the sidelines of the 69th session of the UN General Assembly in New York.
Zarif described his talks with Faisal as a "new page" in bilateral Tehran-Riyadh relations, expressing hope that the meeting would have a positive impact on efforts to restore peace to the region and the world, and protect the interests of all Muslim nations.
For his part, the Saudi foreign minister stated that Iran and Saudi Arabia are two influential countries in the region, stressing that Tehran-Riyadh cooperation could help bolster peace and security in the region and the entire world.
Faisal also pointed to the sensitive situation in the Middle East and said mistakes of the past must be avoided, so that it would be possible to successfully end the crises plaguing the region, Iranian English-speaking Press TV reported.
Ties between the two rival Gulf powers have long been strained on a wide variety of issues, especially on Syria and Iraq.
Iranian President Sheikh Hassan Rouhani on Monday congratulated the Saudi King Abdullah bin Abdul Aziz on the country's National Day.
Rouhani called for expansion of cordial relations between the two Muslim countries in all arenas, hoping for success and prosperity of the kingdoms nation and government.