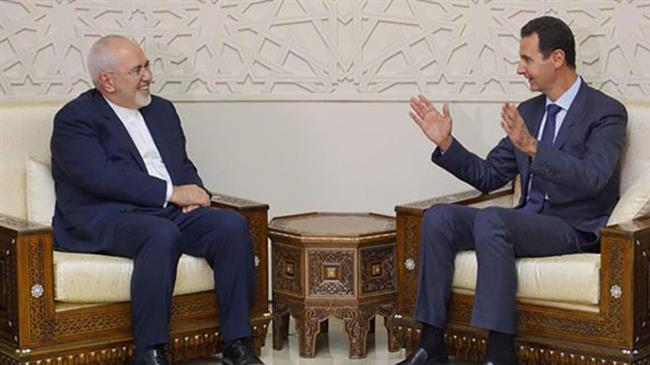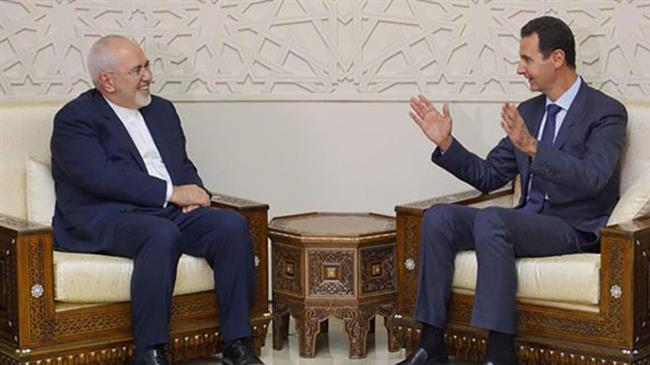 Syrian President Bashar al-Assad and Iranian Foreign Minister Mohammad Javad Zarif say Western pressure on Tehran and Damascus will fail to deter them from fighting terrorism.
In a meeting in Damascus on Monday, Zarif and Assad asserted that Western countries would not be able to deter Iran and Syria from defending their principles, the interests of the two nations, and the security and stability of the entire region.
The two sides emphasized that Western policy of threat and pressure against Syria and Iran shows the West's failure to achieve its goals in the Middle East.
The Syrian president and Iranian foreign minister hailed the current level of relations between the two countries in various fields and agreed to further continue consultations and coordination, particularly in the light of the rapidly-shifting regional and international issues.
They also discussed the latest developments in Syria and other regional countries as well as a planned summit of Iranian, Russian and Turkish presidents in Tehran.
Iranian President Hassan Rouhani will host his Turkish and Russian counterparts Recep Tayyip Erdogan and Vladimir Putin, respectively, on September 7 in an attempt to find ways to end the ongoing crisis in Syria.
The three presidents have previously held summits in the Russian resort city of Sochi in November 2017 and in the Turkish capital, Ankara, in April.
Earlier in the day, the top Iranian diplomat held separate meetings with his Syrian counterpart Walid al-Muallem and Prime Minister Imad Khamis.
Zarif and Muallem discussed regional issues and the latest developments in Syria, including the return of the displaced people to their homeland.
The top Iranian and Syrian diplomats stressed the importance of strengthening economic cooperation and the participation of Iranian firms in the reconstruction of war-ravaged Syria as well as cooperation in international organizations, particularly the United Nations.
Iran's Defense Minister Brigadier General Amir Hatami on August 26 hailed the steadfastness of the Syrian people and government forces in their battle against terrorism, expressing confidence that they will achieve a final victory in this path.
"Not only regional people, but people around the world are indebted to the fight carried out against terrorists in Syria," Hatami said in a meeting with President Assad in Damascus.
Also in a meeting with Iranian Minister of Roads and Urban Development Abbas Akhoundi in Damascus in May, the Syrian president said the development of economic cooperation with Iran and all the countries that insist on defending their sovereignty and independence is one of the most important ways to confront Western plots.
He added that Western powers are resorting to sanctions and coercive economic measures as a means to impose restrictions on nations and obliging them to bow to their hegemonic policies.