Syria
Zarif calls 'backers of military option 'to see reality in Syria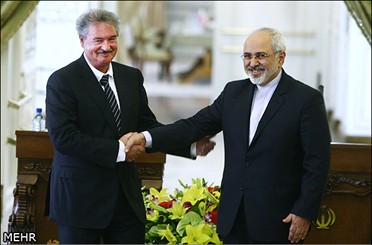 Iran's FM has called backers of military solution in Syria to see the reality going on the country today.
In a joint press conference with Luxembourgian counterpart in Tehran, Mohammad Javad Zarif said that Islamic Republic of Iran had always sought a solution for Syrian crisis. "Those who seek military solutions in Syria, especially those who used terror and violence and added to the problems of people should see the reality going on in Syria today."
"Any serious support of human-rights issues entails a view of the human rights devoid of any opportunistic mentality of means for an end, but to regard it as an end per se," added Zarif.
Jean Asselborn, Luxembourg foreign minister said that his government did not support any sanctions but on human-rights, 'issues should not be mixed' he believed.
Asselborn added that all issues should be considered about democracy in countries and congratulated Iran for holding democratic elections.
He added that Iran and Luxembourg were both friends of Syria but in two different tastes. "UN Security Council could not act coherently to stop the fire of war going on in Syria" held Asselborn and hoped for Iran's role to bring the crisis in Syria to an end.