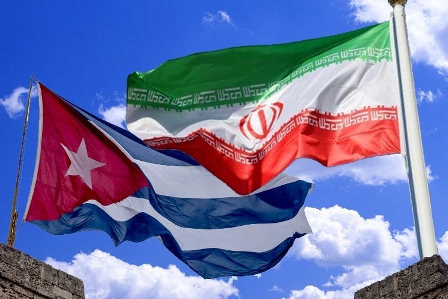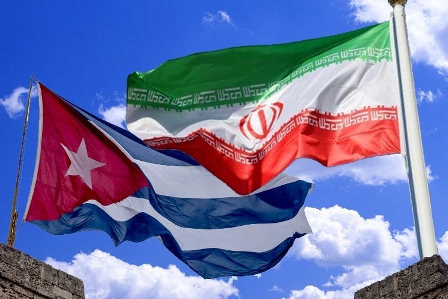 Iran's FM Zarif said the resistance of Iranian and Cuban nations have forced hegemonic powers to bow to compromise and abandon their hostile policies even in their speeches.
Iranian Foreign Minister Mohammad Javad Zarif made the remarks at the opening of Iran-Cuba Joint Economic Forum held Monday in Havana, adding "we need to grab this opportunity presented to us due to lift of sanctions against Iran and change of conditions in Cuba to further expand relations between the two countries."
Zarif noted that Iran and Cuba have extensive relations in political and international scenes, stressing that the two sides need to boost their cooperation in the fields of economy, nanotechnology, pharmacy and other scientific areas as well.
He deemed the presence of high-ranking political and economic delegation from Iran's public and private sectors in Cuba as a sign that the Islamic Republic attaches great significance to its longstanding and firm ties with Cuba and other Latin American countries.
Zarif thanked Cuban nation and government for standing by Iran during difficult times, adding "both of our countries have suffered from America's unjust sanctions, but the sanctions have actually made our people stronger and more resilient."
The Iranian top diplomat further maintained that the presence of representatives from Iran's industry, mines, agriculture, energy, construction, health, pharmacy, trade and services was a golden opportunity for cementing and developing closer cooperation between the two sides.
"Today's talks aim at finding new partners and improving relations between the private sectors of both countries, all in line with realizing the objectives of Iran's resistance economy and the economy recovery in Cuba," Zarif said.
During the forum, the two sides signed an economic MoU for cooperation between private sectors. The memorandum was signed by Iranian deputy head of Chamber of Commerce, Industries and Mines, Farhad Sharif, and his Cuban counterpart, in the presence of Foreign Minister Zarif and Cuba's Minister of Foreign Trade and Commerce Rodrigo Malmierca Diaz.
More than 80 managers from Iran's public and private sectors and 40 economic agents from Cuba participated in this one-day conference to discuss various ways for expanding bilateral cooperation.