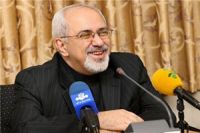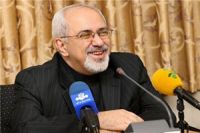 Iran's Foreign Minister, Mohammad Javad Zarif, has emphasized that Iran is opposed to sectarian violence in the region.
According to IRIB World Service, in an interview with Al-Jazeera television network on Tuesday, Foreign Minister Zarif emphasized that what the region needs now is constructive interaction and cooperation between regional countries. The Iranian foreign minister stressed that regional countries need to cooperate with one another and halt the spread of tribalism and ethnic violence in the region, since ethnic violence is a real danger to the entire region.
Commenting on Iran's peaceful nuclear programme, Zarif said Iran will continue its uranium enrichment activities, to 5 % level, both at the Fordo and the Natanz site, and Iran will also continue construction of the Arak nuclear reactor in central Iran.
Zarif added: "Iran has agreed not to carry out some of its nuclear activities, and these have been set out clearly in the agreement and a time frame has been drawn up".
Elsewhere in his remarks, the Iranian foreign minister said when sanctions were introduced against Iran, Iran had less than 200 centrifuges, but today Iran has 19000 centrifuges used for enrichment. Zarif pointedly added: "It seems that one of the main results of the sanctions has been to increase the number of Iran's centrifuges by over 18000. This means the sanctions have been an utter failure".