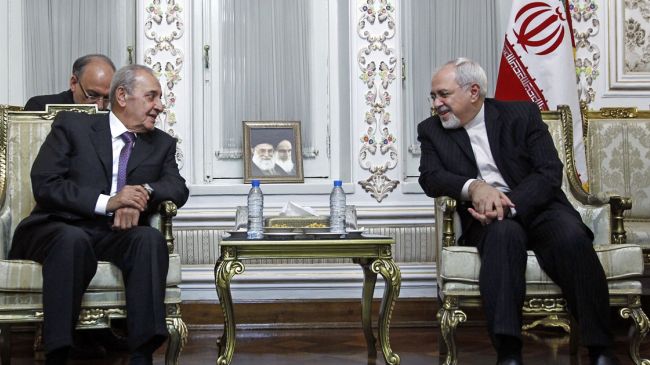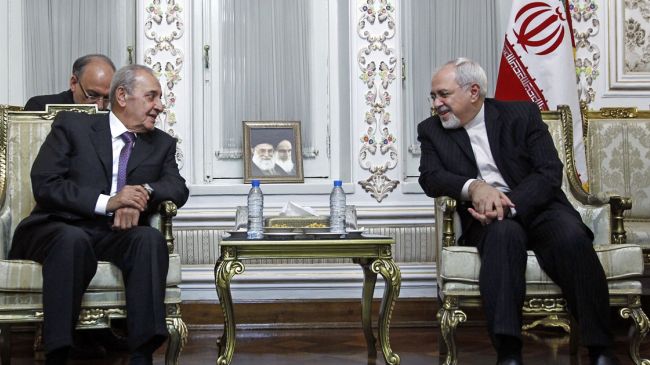 Iran's Foreign Minister says the Islamic Republic is ready to employ all its political capacity along with other regional countries to help resolve the crisis in Syria.
"Iran is ready to utilize all its political capacity and power, along with other regional countries to help resolve the Syrian crisis, particularly the humanitarian dimension of the turmoil," Mohammad Javad Zarif said in a meeting with Lebanese Parliament Speaker Nabih Berri in Tehran on Monday.
Nearly three years of foreign-sponsored militancy in Syria has taken its toll on the lives of more than 100,000 people, according to statistics compiled by the United Nations. Millions have also been displaced due to the turmoil.
Zarif expressed hope that security and stability would be restored in Syria and the suffering of the Syrian people would lessen through cooperation among influential countries in the region.
Also referring to the recent terrorist attacks outside Iran's Embassy in Beirut, Zarif said the bombings proved the "increasing necessity" of close cooperation among regional countries for fighting terrorism and extremism in the region.
On November 19, two bomb explosions outside Iran's diplomatic mission in Beirut left nearly two dozen people dead, including six Iranian nationals, and wounded over 150 others.
While Lebanese authorities have identified two individuals, a Palestinian and a Lebanese as the bombers, an al-Qaeda-linked group, Abdullah Azzam Brigades, has claimed responsibility for the twin bombings.
Berri, for his part, hailed Iran's support for Lebanon's resistance movement, Hezbollah, its government and people over the past years, urging Tehran to continue its influential role in resolving regional issues.