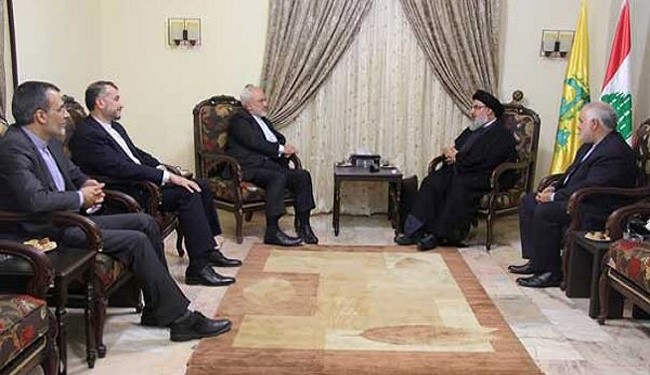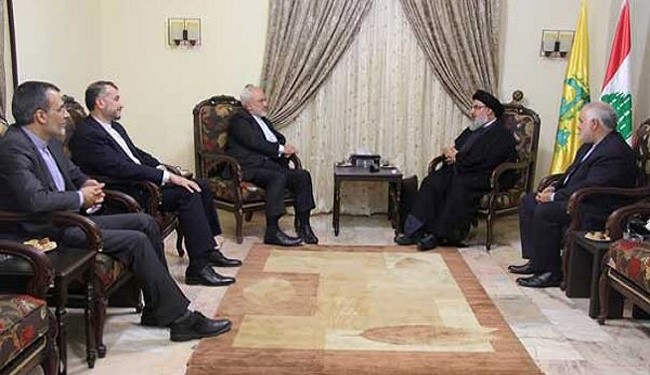 Iranian Foreign Minister described the Zionist regime as the source of extremism in the region. Head of Lebanon's Hezbollah resistance movement in a meeting with Iranian FM Zarif described the JCPOA as positive and valuable for Lebanon and the region, Al-Alam News Network reports.
Secretary General of the Lebanese political and paramilitary organization Hezbollah, Hassan Nasrallah, met with Iranian Foreign Minister Mohammad Javad Zarif in Beirut on Tuesday.
While evaluating the nuclear agreement between Iran and the 5+1 group of countries as beneficial to regional developments, Nasrallah extended his congratulations to the Islamic Republic over this diplomatic achievement.
He pointed to the efforts made by Hezbollah in thwarting the risks that might hurt people in the region, adding "the Resistance seeks to protect Lebanon and the region against the threats imposed by the main enemies who are after dismantling solidarity, security and the infrastructure of human life and peaceful coexistence."
The Iranian diplomat, for his part, said the recent nuclear agreement that was reached between Iran and the 5+1 in July will have positive impacts on regional developments.
He added that the current problems in the regional states that are caused by 'Israeli regime's divisive policies and extremist approaches of terrorist groups' could be settled through dialog and diplomacy that could guide the region toward security, peace and unity among all political parties.
Zarif also highlighted the constructive role of the resistance and coexistence of religions in maintaining peace and development, adding "resistance promotes the dignity of Lebanon and region and brings about respectful coexistence of all Lebanese groups and tribes."
He further expressed hope that increased consultations and talks would better lead to the resolution of current problems in Lebanon and region.
In the second round of his regional visits after the nuclear agreement, Mohammad Javad Zarif arrived in the Lebanese capital city of Beirut Tuesday evening. Zarif also held talks with Lebanese Minister of Defense Samir Moqbel on Wednesday and the Lebanese Prime Minister Tammam Salam on Tuesday.