Iran
North America
Zarif says US simply lying about sanctions not affecting humanitarian items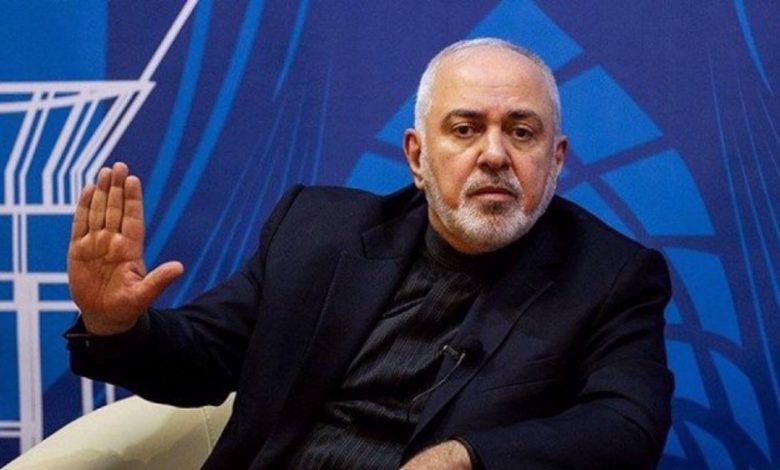 Iranian Foreign Minister Mohammad Javad Zarif says Washington is simply lying when it claims its unilateral sanctions have had no impact on the delivery of humanitarian items to the Iranian people.
"Whatever the Americans are saying about their sanctions not affecting humanitarian items is just [a] lie," the Iranian foreign minister told Russia Today on Sunday.
Zarif said the United States has not only hindered Iran's oil export, but also denied the Islamic Republic access to its "own money."
"The United States first of all limited our financial resources by preventing us from selling oil and, secondly, it is preventing us from having access even to our own money."
Iran, he said, has "quite a bit of money stashed in countries abroad," but the US has prevented Tehran from spending its own money to buy medicine.
The Iranian foreign minister said the sanctions have prevented Iran from purchasing critical medical supplies and therefore impeded its fight against the deadly coronavirus pandemic.
"We have been trying to transfer money for the [purchase of] COVID-19 COVAX – the WHO vaccine – [and] we haven't been able to do that," Iran's foreign minister said, adding, "Similarly, Tehran has not been able to transfer money to buy influenza vaccine."
"So, it's basically medical terrorism that the US is engaged in."
Earlier this month, President Hassan Rouhani of Iran condemned the US sanctions amid the global pandemic, saying the White House knows nothing about humanity.
"We requested a $5-billion loan from the IMF (the International Monetary Fund) and all members agreed, but America does not allow us to get the loan for medicines and treatment," he said.
"They have distanced from humanity as far as this. The White House today has no sense of humanity. If it had a sense of humanity, it wouldn't have done this."
Iran has been battling the deadliest pandemic the world has seen in many decades amid the sanctions.
The spokeswoman for Iran's Health Ministry, Sima Sadat Lari, said on Sunday that a total of 446,448 individuals had contracted the coronavirus across the country.
She added that 195 fatalities had been registered in the past 24 hours, raising the total toll to 25,589.
Lari said as many as 374,170 individuals had recovered, and that over 3,932,570 people had been tested for the virus in the country so far.
'Iran not under arms embargo, restrictions will be lifted in mid-October'
In response to a question about Washington's efforts to internationalize an arms embargo on Iran, Zarif said, "Iran does not buy a lot of arms, we are not Saudi Arabia. I mean, they spend 67 billion dollars [which is] more than [what] Russia did, on their military."
He noted that Iran does not have that much money to spend, but "we produce most of the weapons we need ourselves."
Zarif emphasized that Iran has not been under an arms embargo, but there were restrictions, which were set to be lifted in accordance with an agreement signed between Iran and major world powers in 2015.
"There were restrictions; we needed to get permission from UN Security Council to buy and sell weapons and that restrictions will be lifted in mid-October and that is the most important thing. If we need to procure weapons, to buy weapons from our friends, then there are no legal limits," Zarif said.
On August 14, the UN Security Council almost unanimously refused to support a US-sponsored draft resolution on extending the arms embargo, which is due to expire in October under the 2015 Joint Comprehensive Plan of Action (JCPOA).
During the 15-member Security Council vote, the US received support only from the Dominican Republic for its anti-Iran resolution, leaving it far short of the minimum nine 'yes' votes required for adoption.
Asked about Iran's expectation from Moscow and Beijing – two signatories of the JCPOA – in countering the US actions, Zarif said, "Russia and China took the lead in objecting to the American measures, but for that matter, even the Europeans [did that as well].
"Thirteen members — 13 of 15 Security Council members — twice wrote letters to the president of the Security Council: once on the August 20, when the United States issued its so-called notification and once [more] on September 20, when the United States claimed that its purported UN sanctions have come back, rejecting it and that's what's important. I think that's the important point."
He noted that the US suffered a major diplomatic defeat, which led to Washington's isolation and the international community's verification of the legitimacy of Iran's stance.
"It is an important achievement not just for Iran, but for the international community and for the rule of law."
Speaking at a joint press conference that followed a meeting with his visiting Iranian counterpart in Moscow on Thursday, Russia's Foreign Minister Sergei Lavrov said the two countries reject an underway effort by Washington to "permanently" extend the arms embargo.
"We stressed that Moscow and Tehran, like the entire international community, categorically reject US ambitions to impose some kind of indefinite arms embargo," Lavrov said.