Human Rights
Iran
Middle East
North America
Zarif Slams US for Obstructing Medicine Sales to Iran
Iranian Foreign Minister Mohammad Javad Zarif seriously censured the US maximum pressure campaign against his country for preventing medical entities from purchasing needed medication and equipment, adding that the move is tantamount to economic terrorism and subject to global condemnation.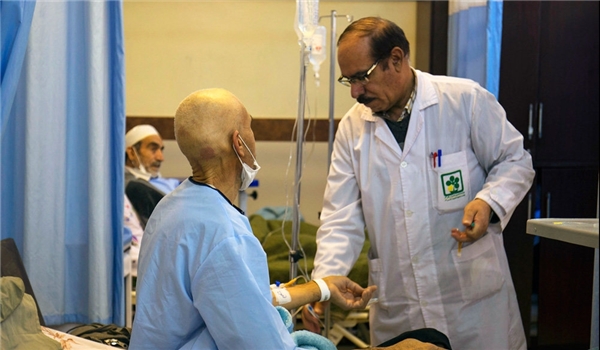 "The US' indiscriminate policy of maximum pressure has placed certain restrictions on Iranian citizens," Islamic Republic news agency quoted Zarif as saying in an address to a meeting on a public insurance program held on the sidelines of the 74th session of the United Nations General Assembly in New York on Friday.
He added that the US' maximum pressure policy has barred Iranian citizens from carrying out financial transactions in the medical sector, preventing them from purchasing medical equipment and instruments.
The Iranian government's efforts to reduce the impacts of such sanctions on the lives of Iranian people have been seriously undermined by the US administration's cruel and all-out war on Iranians, Zarif said.
The top Iranian diplomat emphasized that despite facing restrictions Tehran has provided some neighboring and regional countries with health and medical aid.
He emphasized that the US sanctions are in violation of UN Security Council Resolution 2231, which endorses a nuclear deal signed between Iran and major world powers in 2015.
In an interview with the National Public Radio (NPR) on Sunday, the Iranian foreign minister slammed the United States' aggressive behavior towards the Islamic Republic, as characterized by Washington's economic war against Tehran through the re-imposition of tough sanctions, noting that Iranians cannot be brought to their knees through such pressures.
"Abandon the illusion that Iran can be defeated by pressure," Zarif said, adding, "We are resisting an unprovoked aggression by the United States."
Last month, Ruptly aired a report where cancer patients' relatives, physicians and professor recounted how Washington's unilateral sanctions against Tehran had obstructed the procurement of necessary medications needed for many patients.
People could be seen receiving liquid treatment, while being assisted by medical personnel. Husband of one of such cancer patients, Arman Nahid, commented on the situation as well as the claims made by Brian Hook, the US Special Representative for Iran, about accessibility of medicine for Iranian people.
"Mr. Hook says that we give the access to the medications to Iran's government", but when the money transfer system is blocked, how these medications could be bought [here]? For example, my wife is sick and we needed to use a port and I searched in so many places for this port and out of about 30 places there was only one location that provided it," said Nahid.
Hassan Abolqassemi, Professor of Pediatric Hematology and Oncology, agreed, saying that Hook's words were not true. "The reality is that all financial corridors of Iran are blocked and we are not able to import any cancer medications from the original providers and brands which are mostly in Europe since we cannot provide the foreign currency," stressed the professor.
He also mentioned the growing rate of a pediatric cancer "that could be easily cured and completely treated previously, is a big deal now because we do not have the access to the original medicines."
In the end of July, the Twitter account of the US Department of State published a video with Brian Hook "debunking myths regarding US sanctions."
In the video Hook called the reports that the US sanctioned medical supplies for Iranian people a "myth" adding that the US "exempts medicine and medical devices for the Iranian people from the US sanctions". Hook added that medications could be bought from the US companies and delivered to Iran and that the Iranian government was the one to blame for blocking the access to them.
Despite Hook's claims it's reported that the US-made medications are still hard to obtain reportedly due to banking sanctions that hamper money transactions which causes some Western companies to refuse to sell the necessary drugs and medical equipment to Iran.
Earlier in August, Iranian Foreign Minister Mohammad Javad Zarif once again reminded that the unilateral sanctions of Washington against Tehran are worsening the situation of patients in his country, adding that it is not just a mere claim but a fact echoed by entities from around the world.
"Don't take it just from me," Zarif tweeted, citing an article released by "Foreign Policy" which "illustrates one impact of the Trump Administration's economic terrorism on Iranians".
He added that it is not what he says but it is an article "from those directly involved in producing medicine for cancer patients".
In a Foreign Policy article, Dr. Abbas Kebriaee Zadeh, professor of toxicology and pharmacology at Tehran University of Medical Sciences, wrote that US sanctions against Iran indirectly hamper the flow of vital medicines for cancer patients in the Islamic Republic.
The article revealed that while Washington claims its harsh sanctions against Iran would not target the flow of medicine and other humanitarian necessities into Iran, banking sanctions are in fact increasing import prices, blocking supply chains, and creating deadly drug shortages in the country.
Citing the US Census Bureau, Kebriaee Zadeh adds that under the administration of US President Donald Trump during the last two years, the US' annul exports of pharmaceutical products to Iran declined to an average of $8.6 million a year compared to $26 million annually during the Barack Obama-era sanctions.
Washington under Trump has also made it more difficult for European countries to export medicine to the Islamic Republic, Kebriaee Zadeh wrote.
"Swiss pharmaceutical exports to Iran fell 30 percent from 235 million Swiss francs ($240 million) in 2017 to 163 million francs ($167 million) last year, according to Swiss customs data. Even though sanctions were only fully re-imposed in November 2018, Swiss exports that year fell below the 173 million francs ($178 million) annual average observed from 2008 to 2015," he said.
The report, citing figures from the Eurostat, added that in a similar manner, French pharmaceutical exports to Iran also fell 25 percent from 194 million euros ($218 million) in the Obama-era period to 146 million euros ($164 million) in 2018, slipping below the 2008 to 2015 average of 150 million euros ($168 million).
The author of the report expressed particular concern over the risk to pediatric cancer patients, warning that sanctions-caused disruptions in the imports of medicines into Iran have paved the way for opportunists to begin "smuggling counterfeit and low-quality medicines into Iran through routes from Pakistan, Turkey, and the United Arab Emirates."
Kebriaee Zadeh further warned that this could lead to not only low-quality drugs, but also new public health risks.
Also in August, Iranian Health Minister Saeed Namaki said Washington's unilateral sanctions against his country which is preventing medicines from being sold to Iran is a crime against humanity.
"Measures taken by the US administration in banning [access to] medicines needed by Iranian patients and pressures mounted by Washington on Iran's health sector amount to crime against humanity," the Iranian minister said, in a joint press conference with his Lebanese counterpart, Jamil Jabak, in Tehran on August 5.
Elsewhere in his remarks, Namaki said imposing sanctions on health and medical sector of any country is illogical and inhumane, emphasizing, however, that "at the present time, we produce 97 of medicines needed by [Iranian] patients inside the country and we are facing problems for the supply of only three percent of medications."
"Despite the US pressures, medicines needed by all patients have been supplied. We are also planning, in cooperation with Iranian knowledge-based companies and young scientists, to meet all our medical needs within the country in coming years and become needless of imports," the Iranian minister added.