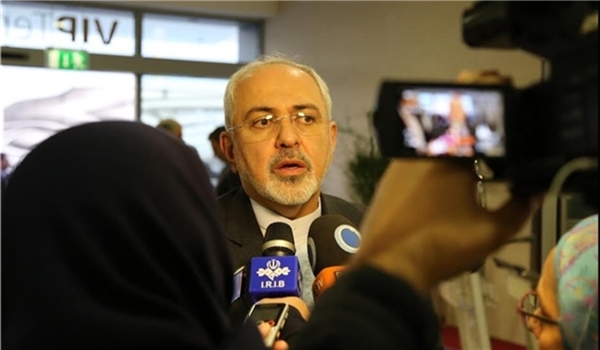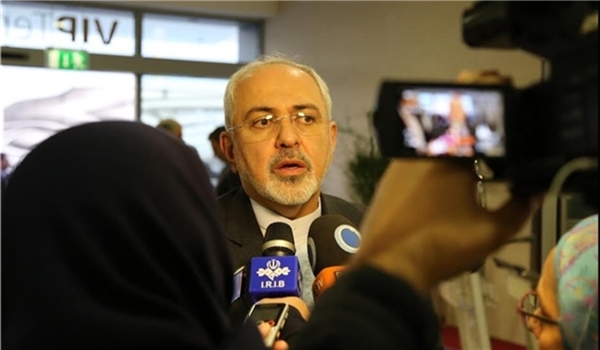 Iranian Foreign Minister Mohammad Javad Zarif blasted Israel's Sunday missile strikes on the T4 airbase in the Syrian province of Homs, warning that Washington and Tel Aviv are only seeking any kind of excuse to meddle with Syria.
"It seems that the US administration is seeking some excuse for intervention. The situation of the US-backed terrorists in Syria is not good. They sustain new defeats every day. The US and Israel have entered the scene at different stages to boost the terrorists' morale in Syria and the recent attacks by the Zionists against Syria which was a repetition of similar assaults in the past are within the same framework. Whenever the terrorists are defeated, the Zionist regime launches an assault," Zarif told reporters upon arrival in Brazil on Tuesday.
He also warned that there are creditable pieces of information showing that the Americans transfer the ISIL terrorists (in Syria) to other regions so that they can use the dangerous investment they have made in Syria in other parts too.
"Such policies will have dangerous consequences for the regional, international and even the US peace and security," Zarif said.
He also reiterated Tehran's opposition and condemnation of chemical weapons use by any group or party in Syria and any other parts of the world.
Tehran declared on Monday that four of its military advisers have been martyred in Israel's overnight airstrikes on T4 airbase in Homs.
Two Israeli fighter jets attacked the Syrian army's T4 military base in Homs province from the Lebanese airspace on Sunday night, killing and wounding over a dozen militaries, including 4 Iranian military advisers.
The Iranian casualties have been identified as Seyed Ammar Moussavi, Medi Lotfi Niyasar, Akbar Zawwar Jannati, Mehdi Dehqan Yazdeli.
The Russian Defense Ministry said on Monday that Israeli F-15 fighter jets targeted Syria's airbase. The warplanes fired eight guided missiles, but Syrian air defense units shot down five before they could hit the airfield. Three of the missiles reached the Western part of the airfield.
The Israeli fighters did not enter Syrian airspace and launched the strikes while flying over Lebanon.
Zionist regime has launched sporadic attacks against various targets on Syrian soil over the past few years, in assaults slammed by Damascus as attempts to boost terrorist groups who have been suffering heavy defeats on the battlefield with President Bashar Assad forces.
The latest such attacks took place in mid-February when Israel bombed a Syrian Army facility in Central Syria. Damascus shot down at least one Israeli F-16 returning from the bombing raid.
The Syrian army has seized Israeli-made arms and military equipment from militants fighting pro-Damascus forces on numerous occasions ever since the war of militancy started in the country. Israel has also been providing medical treatment to the militants wounded in the Arab country.