World News
Zelaya refuses to leave Honduras to Mexico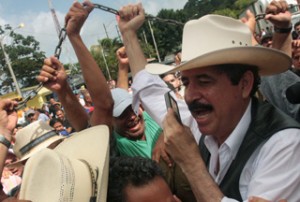 Deposed Honduran leader Manuel Zelaya has rejected a Mexican offer of safe passage and political asylum in Mexico.
Zelaya dismissed a Mexican offer of safe passage, which could have ended a tense stand-off that has seen him holed up at the heavily fortified Brazilian embassy for the last three months.
Mexico on Wednesday sent a plane to collect Zelaya — who was deposed and exiled in a military-backed coup in June, before clandestinely returning to the country three months ago — only to have it return to Mexico without him.
"Yesterday, the de facto government… experienced another failure in its plan to get me to renounce my post," Zelaya told Brazil's Globo radio from inside the Brazilian embassy.
"I can stay here 10 years. Here I have my guitar," said Zelaya, who slipped back into the country secretly in September to rally support for his reinstatement as president following his ouster in a June 28 coup.
"They want me to resign," he said.
The de facto regime's interior minister Oscar Raul Matute said that the government would only consider allowing Zelaya to leave the embassy if he applied for political asylum in Mexico.
But Zelaya has firmly rejected the possibility that he would seek political asylum, which would effectively end his chances of being reinstated as president until his term ends on January 27.