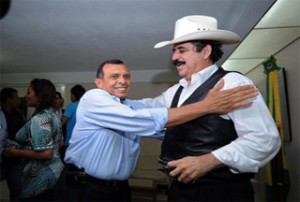 As new Honduran president is expected to take office next week, ousted President Manuel Zelaya says he will leave the country.
Zelaya welcomed the Dominican Republic's offer to stay in that country, Rasel Tome, a close aide to Zelaya, said Thursday.
"The exit will not be a permanent exit, we will come back to the country to continue in these processes with the Honduran people," Tome said.
The ousted president was exiled to Costa Rica in an alleged US-linked military coup on June 28. He has been granted refuge at the Brazilian Embassy since slipping back into Honduras in September 2009.
His departure would be under an agreement signed by Honduran President-elect Porfirio Lobo in Santo Domingo.
The agreement says Zelaya, his family members and his circle of advisers can enter the Dominican Republic after Lobo assumes power next Wednesday.
Lobo won an election that was denounced by many countries as illegitimate because it was organized by the same interim government that toppled Zelaya. The US was quick to recognize the result of the vote.