Middle East
Palestine
Zionist Command Chief Visits Qatar as Gaza Incendiary Balloon Attacks Persist
The head of the zionist Occupation Forces' Southern Command, Maj.-Gen. Herzl "Herzi" Halevi, led an Israeli delegation to Qatar in an attempt to hold talks aimed at reducing tensions with the Gaza Strip as incendiary balloon attacks launched by Palestinian Resistance in the coastal enclave persisted.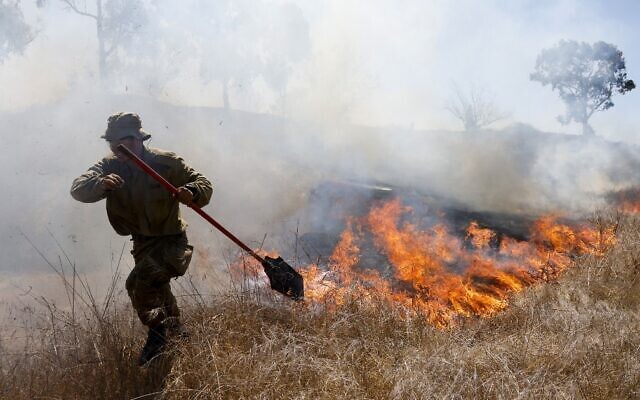 According to a report by the London-based Asharq Al-Awsat, Halevi flew to the Qatari capital of Doha on Monday along with other officials from the IOF, Shin Bet, Mossad, and National Security Council in order to "convince Hamas leaders abroad to intervene to prevent a military escalation," The Jerusalem Post reported.
While Egypt has been playing the main role in mediating crises between the two sides, the report said that the IOF "wants to see Qatar play a larger role in mediating, and not just send financial aid to the group."
Meanwhile on Monday, Israeli Channel 12 reported that incendiary balloons hit a military facility belonging to Israeli Air Force.
Earlier on Sunday, 28 fires were sparked in the Zionist entity's south. Israeli warplanes hit several targets across the besieged enclave late Sunday, with occupation army said it had targeted military positions and underground infrastructure belonging to Hamas Resistance movement.
'Crime against Humanity'
The occupation military has been bombing Gaza almost daily since August 6, while balloons carrying fire bombs and, less frequently, rocket fire have hit the occupied territories from Gaza.
The occupation authorities have tightened its 13-year blockade of Gaza's two million inhabitants and banned Gaza fishermen from going to sea and closed its goods crossing with the territory, prompting the closure of Gaza's sole power plant for want of fuel.
Hamas in a statement called the closure of the Kerem Shalom crossing a "crime against humanity" and called on the international community and "decision-makers in the region" to "break their silence to bring an end" to the blockade.
Hamas also said that the normalization of relations between the Zionist entity and the United Arab Emirates helps "maintain crimes and violations" against the Palestinians.