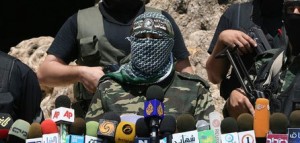 Al Qassam Brigades, the military wing of Hamas, vowed on Wednesday to avenge the death of a movement leader Mahmoud Al Mabhouh who was assassinated by the Zionist Mossad in UAE.
"The decision has been made. We decided to respond," said Abu Obaida, the spokesman for the Ezzedeen Al-Qassam Brigades, speaking at a mass rally denouncing Mabhouh's death in Sheikh Zayed City in the northern Gaza Strip.
Abu Obaida stressed that the brigades would not say when or where this response would take place, but said the Zionist enemy "must pay for this crime."
He also warned the Zionist entity against waging a new offensive on Gaza, saying any such attack would be "sure to fail."
For his part, senior Hamas leader Khalid Mash'al gave a televised address vowing to hit back over Mabhouh's death.
"The time for promises and talk of revenge is done. Now is the time for action," he was quoted as saying by Al-Jazeera.