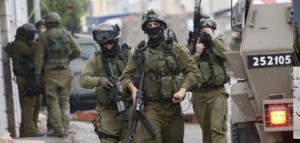 The Zionist occupation forces continue raids and searches of Jerusalemites' houses in different parts of Jerusalem since a week; the forces captured dozens of young Jerusalemite, including one of Al Aqsa guards.
Eyewitnesses told our correspondent that Zionist forces captured, at dawn, Tariq Bakirat, one of the guards of Al Aqsa Mosque.
Witnesses added that the occupation force was waiting Bakirat as he left the mosque of his village "Sur Baher" in southeastern Jerusalem, where they attacked and handcuffed him before taking him to his home and confiscating his personal computer.
Also, the Zionist forces captured Eng. Ihab Al Jallad, member of the public committee of Jerusalem, after raiding his home, tampering with its contents and confiscating personal belongings, noting that he was taken to an unknown destination.
Yesterday, the Zionist forces had announced that they captured more than 20 Palestinians during the past few days and accused them of being linked to the confrontations of Aqsa Mosque, noting that they were taken to detention centers for interrogation.
The Zionist radio said: "The forces intend to do more raids and arrests of Palestinian homes in occupied Jerusalem. "