Palestine
zionist forces kill two Palestinians in Nakba Day protest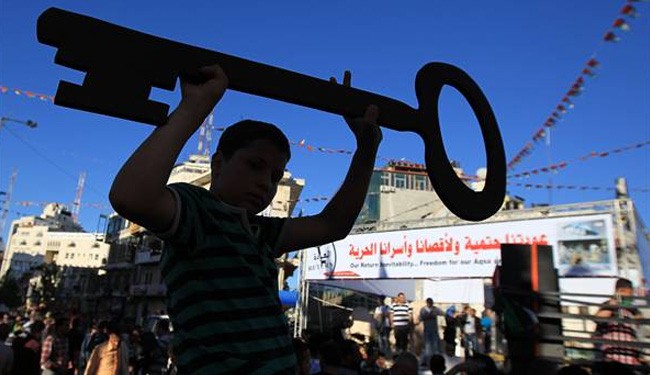 Israeli troops have killed two young Palestinians in a Nakba Day protest near the West Bank city of Ramallah, officials say.
The two protesters, Musaab Nuwarah, 20, and Mohammed Udeh, 17, were shot and fatally wounded on Thursday. They later died in a hospital in Ramallah, medical officials said.
They were shot in the chest by Israeli troops during a demonstration marking the 66th anniversary of the Nakba Day, or the Day of catastrophe.
Every year on May 15, Palestinians all over the world hold demonstrations to commemorate Nakba, which marks the anniversary of the forcible eviction of hundreds of thousands of Palestinians from their homeland by Israeli troops in 1948.
Also on Thursday, more than 150 people gathered near Ofer prison, outside Ramallah, calling for the release of Palestinian prisoners held in Israeli jails. Israeli security forces shot one protester there.
According to the Palestinian medics, the injured man was undergoing a surgery in a hospital.
Protesters also gathered at the Qalandiya checkpoint between East al-Quds (Jerusalem) and Ramallah. They set fire to tires and threw stones at Israeli forces.
Meanwhile, hundreds of people took to the streets in the besieged Gaza Strip, calling for Palestinian refugees to be allowed to return home.
On May 15, 1948, Israeli forces displaced some 750,000 Palestinians, forcing them to flee to different neighboring countries.