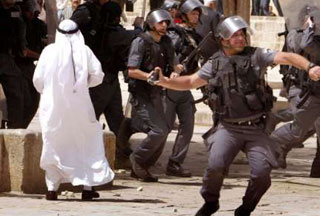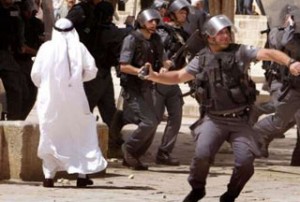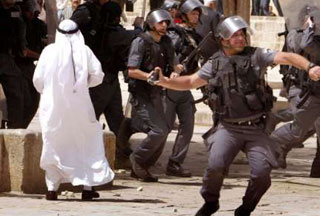 Zionist Israeli forces have raided Al-Aqsa holy compound in Jerusalem Al-Quds to crackdown on a number of Palestinian protesters in the area.
Clashes erupted in the holy complex after the Israeli forces raided the area to push out dozens of Palestinian protestors in the mosque ground on Sunday, a Press TV correspondent reported.
Police also closed the roads into the Old City of Al-Quds in the occupied part of the city, preventing entry to all Palestinians under the age of 50.
Palestinians protesters responded the attack by throwing stones. One Palestinian was arrested in the clashes.
The demonstrators reportedly spent the night at the mosque following an announcement by the Israeli settlers to enter the holy site to celebrate the Jewish Holiday of Purim.
Israel occupied East Al-Quds during a 1967 aggression and later annexed it. The status of the city is among the thorniest issues of the so-called peace process with the Palestinians, underscoring the reality that any Palestinian state should include the city as its capital.