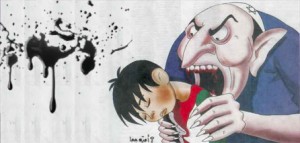 Zionist newspaper reported today morning that the Zionist forces travels across world to take opportunity to spread slander, blood libel. An American resident of Seattle, Washington uploaded a video to YouTube on Tuesday confirming that the Zionist forces in the delegation to the earthquake site in Haiti are stealing organs from their patients.
T. West, who calls himself T. West, fronts a group called AfriSynergy Productions, whose declared goal is to empower the black man. The video purports to present Zionist soldiers engage in organ trafficking. On the video, he confirms that there are people operating in Haiti who do not have a conscience and are members of the search-and-rescue teams, including the Zionist forces.
T. West said that the Zionist forces stole organs in the past from Palestinians and others. He asserted that there is very little oversight during such tragedies, and that the Haitian people must look out for their fellow citizens to protect them against international medical groups who arrived in the country "for the money." He confirmed that some people were looking to make money off the tragedy.
Analysis who studied this issue before said "This is the official policy of the Israeli military institution, they do that before with the Palestinian and they are ready to do it everywhere."
T. West explained that the recent Jews who arrested in the United States were involved in an organ trafficking racket.