Palestine
Zionist forces target Palestine fisherman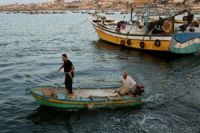 Zionist forces have shot and wounded a Palestinian fisherman in the north of the occupied Gaza Strip as the Tel Aviv regime's aggression against Palestinians continues unabated.
According to Press TV quoting shraf al-Qidra, Gaza's health ministry spokesman on Monday, the Zionist regime forces shot the Palestinian man identified as Imad Shukri Salim.
Medics said that the 52-year-old fisherman was taken to Kamal Adwan hospital for treatment. The medics said he suffered moderate injuries in the incident.
In a similar incident, Zionist forces fired at the boats near the city of Rafah, situated 30 kilometers (around 19 miles) south of Gaza City, late on May 19, injuring two fishermen.
On March 26, Zionist regime's warships targeted Palestinian boats near the city of Rafah, injuring four fishermen.
Palestinian boats are permitted to fish up to six nautical miles from the Gaza coast according to the terms of Israel's naval blockade on the impoverished enclave.