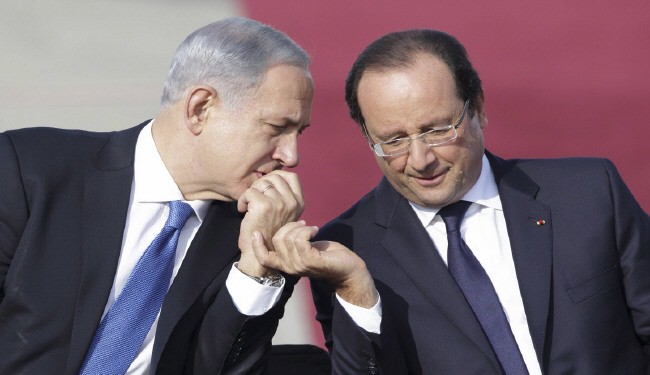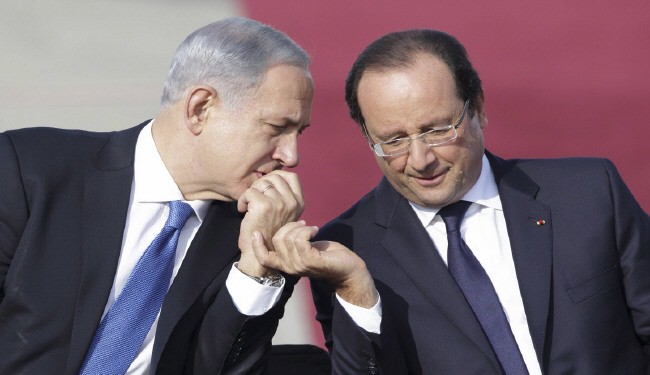 French President Francois Hollande who is widely blamed for failure of a deal ending Western standoff on Iran's civilian nuclear program has told Israeli MPs that his country would not allow Iran to secure a nuclear weapon.
To loud applause inside the Israeli parliament, Hollande said, "We have nothing against Iran, or its people, but we cannot allow Iran to get nuclear arms".
The nuclear-armed Israeli regime has been giving a warm welcome to the French president, seen as a new ally to put more pressure on Iran, as its long-time partner, the United States, seemed to be agreeing to Iran's new proposal over its nuclear program presented at the last round of talks.
Hollande, who is experiencing a record-low popularity of only 15% back at home, accused Iran of seeking a military purpose in its nuclear program and said, "We will maintain the sanctions as long as we are not certain that Iran has definitively renounced its military program."
Iran has repeatedly announced that it is only working on a civilian program aimed at fulfilling future energy needs of its 70 million population.
Iran is a member of the IAEA and a signatory of the Non-Proliferation Treaty (NPT) and has been conducting its program under IAEA supervision.
Representatives from Iran and the five permanent members of the UN Security Council – Russia, China, France, Britain and the US – plus Germany are set to resume a fresh round of talks about Tehran's nuclear energy program in the Swiss city of Geneva on November 20.
France has been one of the main reasons behind hampering a possible deal between Iran and the six powers during the last round of talks on November 7-10 when the two sides managed to narrow their differences and were seemingly close to reaching an agreement.
On November 9, French Foreign Minister Laurent Fabius said "Israel's concerns" must be taken into consideration in the course of the negotiations.