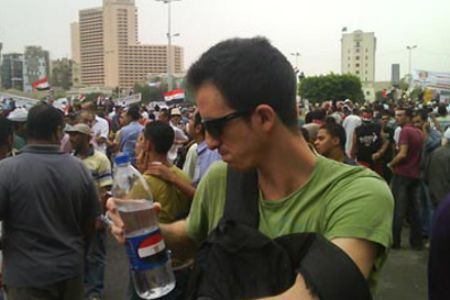 Egyptian sources report that efforts by Israeli prime minister's adviser, Isaac Molho, to change Cairo's position on accused Israeli spy Ilan Chaim Grapel has been to no avail, a report says.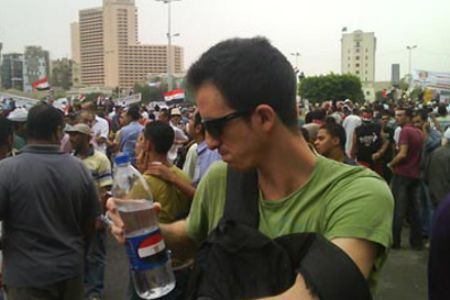 In his recent visit to Cairo, Benjamin Netanyahu's advisor Molho held talks with senior Egyptian officials about Grapel and called for his release or his swap with Egyptian prisoners, Mehr News Agency quoted Al-Ahram daily on Sunday.
This came amid reports about Egyptian plans to keep the US-born suspected Zionist Israeli spy in custody for further probes.
The Egyptian security officials announced on Saturday that the detained Zionist Israeli suspect will spend at least two weeks in detention pending further investigations.
Grapel was arrested on June 12 at a famous hotel in Cairo with a laptop and three cell phones containing top secret information.
The 27-year-old suspect is accused of collecting information about developments in Egypt during the country's popular revolution that toppled the pro-Israeli regime of Hosni Mubarak.
The Zionist Israeli suspect is also accused of inciting sectarian tensions among youths in the Egyptian capital, urging them to engage in clashes with security forces.
Upon his arrest, Egyptian Judicial sources identified him as an Zionist Israeli intelligence operative and an army veteran that was injured in Israel's 33-day war on Lebanon in the summer of 2006.
Two days after his arrest, Zionist Israeli Foreign Minister Avigdor Lieberman, strongly denied that he was a spy.
Meanwhile, the United States has lobbied for the release of Garpel, mounting pressure on Egypt to release the American-born Israeli suspect.
Gary Ackerman from the US House of Representative's Foreign Affairs Committee claimed Grapel was a US law student and served as his intern in 2002. "He is not a spy. He is a kid in college, acting like a kid in college," the official said.
Cairo, however, has opposed any efforts or force for Garpel's release, arguing that his activities during popular revolution in the country have harmed Egypt's national security.
Relations between Zionist Israel and Egypt have been tense since a popular revolution swept former dictator president Hosni Mubarak from power in February.
Under the US-backed Mubarak regime, Egypt consistently served Tel Aviv's interests in the region.