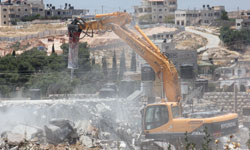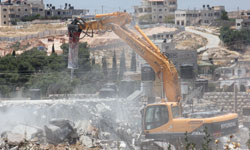 Israeli forces demolished on Thursday 10 commercial properties in the Bartaa industrial zone in Jenin, the local mayor said.
Mayor Ghassan Qabha said Israeli military bulldozers and vehicles began razing the properties at 6 am, because they were not licensed. The installations demolished include a used car parts warehouse, a car servicing shop and an iron shop, Ma'an reported.
Eight demolition orders were also handed down, giving owners three days to remove their wares from the properties, Qabha said.
Qabha said Israel aimed to harm the economic sector in Bartaa, which is located near the wall. The mayor said the industrial zone used to be thriving, attracting traders from the West Bank and Palestinians in Israel.
Approximately 6,000 Palestinians in the Bartaa enclave have been severed by the wall from Jenin, the UN says.